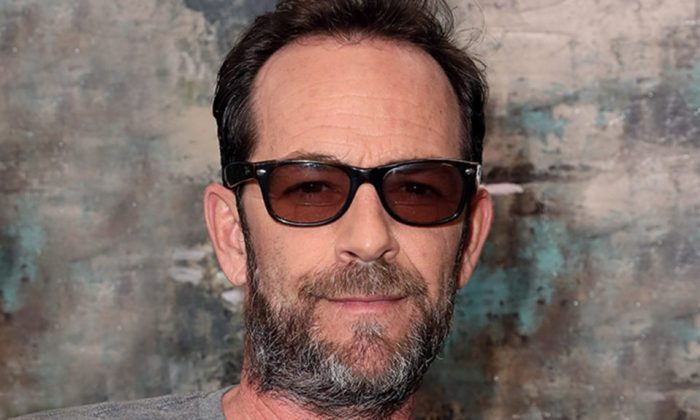 When the television show "Beverly Hills 90210" first hit the airwaves on October 11, 1991, it was Luke Perry's 24th birthday. That's when the nation was introduced to his character Dylan McKay, a high school rebel with a soft side and awe-inspiring sideburns.
Last Wednesday, studio executives announced the 1990s hit show would be getting a reboot. That same day, Perry then 52 and playing Archie's dad on the CW's "Riverdale" suffered a major stroke. On Monday, it was announced that Perry had died at St. Joseph's Hospital in Burbank surrounded by his family. Those who grew up with Perry as the epitome of '90s cool may wonder how someone of their generation could even be old enough to suffer a stroke. Perry's death highlights that not only did the '90s end nearly two decades ago but also that younger person or at least those under 55 years old are at a higher risk of stroke than traditionally thought."It's not an uncommon thing to see in a young person," Salman Azhar, MD, director of the stroke at Lenox Hill Hospital in New York City, told Healthline. Experts have been warning of the rise of strokes in those once thought to be too young to have an elevated risk.
Stroke experts have warned strokes have become more common among younger people, namely in what's been dubbed the "Stroke Belt," an eight-state region across the southeastern United States with a higher rate of death from stroke than other parts of the country.
This means that Generation X is currently at an age where their risk of stroke begins to increase every year. In addition, an increasing number of cases also involve millennials and even Generation Z, which includes today's teenagers.
'Stroke Belt' Is Widening
Dr Larry B. Goldstein, a professor, and chair of the Department of Neurology at the University of Kentucky, as well as a volunteer medical expert for the American Heart Association, says the reasons for the increase in strokes in younger people aren't fully clear.
It may in part be related to a rise in various risk factors, such as diabetes, obesity, poor diet, and lack of exercise.
Then there's the Stroke Belt, which researchers have noted since the 1940s. It's an area of the country that has higher rates of stroke, even among school-age children. The states in the belt are Arkansas, Tennessee, the Carolinas, Georgia, Mississippi, Alabama, and Louisiana.
But as data has been collected on even a county-by-county basis, researchers say it might be best to think of the Stroke Belt with even wider-reaching areas, possibly including Kentucky, Missouri, and parts other adjacent states, including Perry's home state of Ohio.
A 2016 study in the journal Stroke says these stroke-prone hot spots also follow a pattern.
These areas have greater proportions of African-American residents, higher rates of unemployment, more chronic diseases such as obesity and diabetes, and higher hospital admissions and emergency department visits. They're also areas typically lower in income and education. All of these societal factors typically result in poorer health outcomes.
With all of those factors mixed in, experts say young people in the Stroke Belt are increasingly unhealthy.
"The most recent data indicate that less than 60 percent of those 12 to 19 years old have ideal cardiovascular health measures and even fewer follow healthy lifestyle recommendations," Goldstein told Healthline.
But not all strokes end in death. If caught early and treated properly, survival and successful recovery are more likely.
"Stroke isn't only often preventable, but the possibility of treatment to reduce or reverse the effects of stroke in some people is now possible," Goldstein said.
Strokes, no matter what kind, typically have similar symptoms because they're directly impacting brain function.
Experts say to spot the warning signs of a stroke, follow the BE FAST method:
Balance: A loss of balance will be sudden.
Eyes: This can include double vision or vision loss in one or both eyes.
Face: One half of the face may be visibly droopy.
Arms: They may be weak or unable to move.
Speech: This includes difficulty speaking or slurring words.
Time: If a person is experiencing these symptoms, call 911 immediately, as the quicker they get treatment, the more likely they are to recover.
The worst thing a person can do, experts say, ignores the warning signs and deny that they may be having a stroke.
"The first response is denial, but there's nothing more disastrous than that," George P. Teitelbaum, MD, an interventional neuroradiologist and director of the Stroke and Aneurysm Center at Providence Saint John's Health Center in Santa Monica, California, told Healthline.
Preventing and Treating Stroke
Experts say there are now drugs and procedures available to help people who've had a stroke, including clot-busting drugs such as tissue plasminogen activator (tPA), which can help blood flow through the clogged vessel quicker.
Using these drugs "and removing blood clots from large arteries supplying the brain with blood is now part of usual clinical practice in hospitals," Goldstein said.
Teitelbaum said specialists have a better understanding of stroke, thanks to recent large-scale studies.
For example, he says, the thrombectomy the physical removal of a blood clot from a vessel has become "one of the most effective medical procedures in the world."
Inside or outside the Stroke Belt, the lifestyle choices associated with higher rates of stroke a sedentary lifestyle, a diet high in processed foods, excessive drinking, smoking, drug use, and other unhealthy behaviors can compound over time.
But these behaviors can also be reactions to stress.
Azhar said how a person reacts to stress is one lifestyle choice that can help lower the risk for stroke. That's because reacting poorly to stress typically means exercising less, eating more unhealthy food, and drinking alcohol, all of which increase inflammation in the blood vessels, thereby increasing the likelihood of stroke.
"Some people are better at dealing with stress than others," Azhar said. "You have to know your body and how to manage it.
"