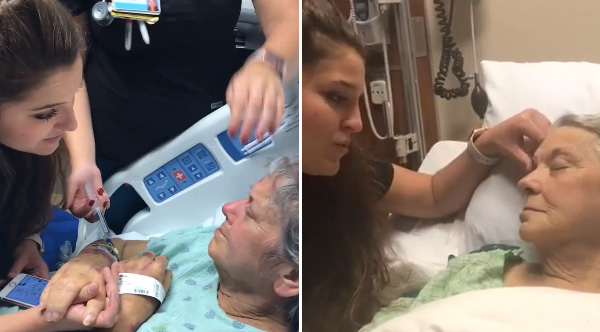 A Nashville nurse is warming the hearts of millions after videos surfaced of her singing to a dying woman awaiting a liver transplant
. Margaret Smith was at Vanderbilt University Medical Center looking forward to a liver transplant, but doctors told her that she wasn't well enough to undergo the surgery. Nurse Olivia Neufelder wanted to help comfort Margaret in her time of fear and grief, so she asked Margaret what was her favourite song. Olivia began singing "Dancing in the Sky," by Dani and Lizzy, at Margaret's bedside daily."This nurse sat with my mom for hours while the medicine from too much Anesthesia and sang a very special song to my sweet mother to comfort her," Margaret's daughter Megan wrote in a Facebook post."You never left her side by choice!! Words cannot describe the appreciation and love we feel for nurse Olivia who mom calls her angel!"Smith passed away at a nursing home six days after being told she would not be able to receive a liver.
But she didn't leave the hospital without the voice of an 'angel' singing her on," family friend Crystal Hamilton Roberts said.