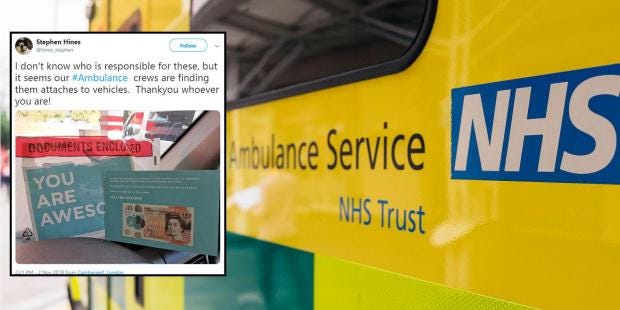 Anonymous notes and gifts have been left on ambulances, telling paramedics "you are awesome" along with £10 to spend on coffee and doughnuts. Stephen Hines, a healthcare professional from Walthamstow, took a picture of a note left on his ambulance, as well as the £10 with it. The note read: You are awesome! Saving lives every day is a contribution to this country that's so enormous nothing could ever demonstrate the gratitude we all feel. Thank you for your commitment, service and all that you do for all of us. Coffee & Doughnuts are on us today. Hines shared the photo on Twitter alongside a caption that read: I don't know who is responsible for these, but it seems our #Ambulance crews are finding them attaches [sic] to vehicles. Thank you whoever you are!.
Hines wasn't the only one that discovered well-meaning messages on his ambulance...A crew member with St John's Ambulance called Tony Holden added that one of his crew received the message as well.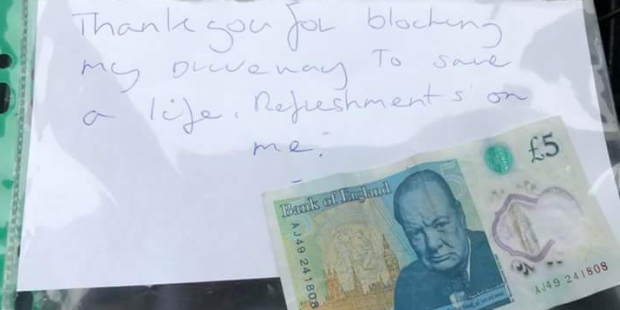 A London Ambulance Service spokesman said: All our teams across the Service are passionate about helping Londoners in need. Each month more than 300 members of our staff are thanked in cards and letters of appreciation from the public. If someone would like to thank one of our teams or crews we'd encourage them to get in touch via our website, over the phone or by email so we can ensure their message reaches the team.
Back in 2017 an angry note left on an ambulance berating them for blocking their drive while paramedics attended to an emergency went viral. It prompted an outpouring of support, as people left money and thanks on ambulance windows. There have been multiple instances where people have left money and a kind note on ambulances. Earlier this year Dewi Lloyd, a paramedic working for Flintshire Ambulances in Wales showed a picture of a £5 note attached to an ambulance. The note left with the little gift read: Thank you for blocking my driveway to save a life. Refreshments on me.