Women across Ireland could go on strike over how rape trials are conducted after a jury was told a 17-year-old's underwear suggested consent, an Irish MP has revealed. The lawyer of a 27-year-old man who has been cleared of rape argued that the trial should consider whether the young woman's clothing and lace thong meant she had consented to sex. Following the trial, which sparked anger across the country, MP Ruth Coppinger has suggested that woman may strike in a bid to protest against how rape trials are conducted. Referencing the Google employees who walked out after one of the company bosses received a payout after sexually harassing a colleague, Ms Coppinger said that it's the kind of action needed. In order to prove her point, Ms Coppinger brandished a black thong around Ireland's parliament, the Dail, to air her outrage at how the case had been handled. Since the trial women have been posted images of their underwear on Twitter and Instagram with the hashtag #ThisIsNotConsent, to highlight the damaging nature of including a women's choice of clothing in cases.
Protests have been held in Dublin, Limerick and Belfast as well as one in Cork on Wednesday, where around 400 women hung thongs on the railings of the courthouse where the trial had been held. Ms Coppinger said that defence teams in past rape cases have used clothing, fake fan and type of contraception as validation of consent. Rape Crisis Network said that a maximum of ten per cent of rapes was reported, and one in 40 of these cases therapists were brought to an appropriate level of justice, Ms Coppinger added. She said: 'How heroic and what levels of fortitude must a woman have to pursue a rape trial in this country? 'It might seem incongruous or embarrassing to show a thong in the Dail but I do so to highlight how a rape victim feels at her underwear being shown in the incongruous setting on a courtroom.'Irish Prime Minister Leo Varadkar has said that the treatment of alleged rape victims should be investigated by the government.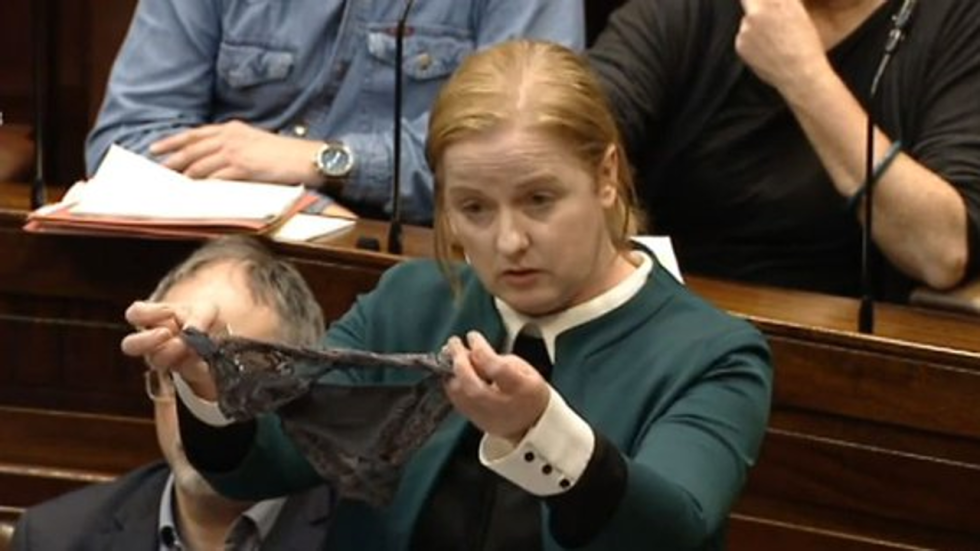 He added that there was 'no doubt' over the fact that the victim is never to blame as nobody asks to be raped. It is irrelevant what they chose to wear, where they were and who they were there with and whether they were intoxicated, he said. It has been suggested by political party Sinn Fein that it intends to amend the sexual offences bill which would ban any reference to women's clothing during these trials.