A photo of George H.W. Bush's service dog looking sad as it lies on the floor in front of his flag-draped coffin has gone viral. The picture was posted on Twitter by Bush's longtime aide and friend, Jim McGrath.Jeb Bush, son of the 41st president and the former governor of Florida, retweeted the photo, with the simple words: "Sully has the watch.
"X-Men actress Olivia Munn shared the photo, saying: "President George H.W. Bush. A World War II hero who gave his service revolver to a Navy lieutenant aboard the submarine that rescued him after his plane was shot down.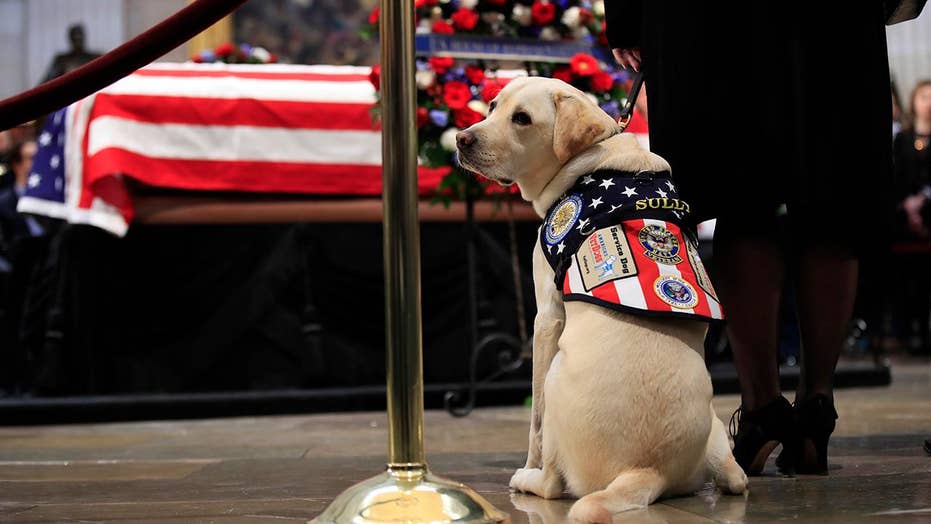 This is his pup Sully, lying beside him till the very end. Thank you for your service, Mr President."Fox News host Bret Baier tweeted: "That is just a great pic of Sully the service dog who served @GeorgeHWBush Wow."Sully, a yellow labrador who became Bush's service dog in June, will make one last trip with the former president, accompanying his casket to Washington, D.C., a trip McGrath says has the call sign "Special Air Mission 41."
Bush will lie in state in the capitol starting Monday and service will be held at the Washington National Cathedral later in the week. George W. Bush posted on Instagram that Sully will be reassigned. "As much as our family is going to miss this dog, we're comforted to know he'll bring the same joy to his new home, Walter Reed, that he brought to 41," the 43rd president wrote.