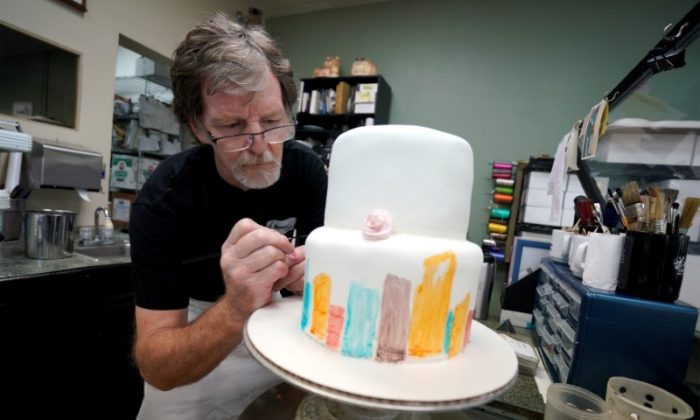 A federal court judge has allowed the owner of Masterpiece Cakeshop to sue the state of Colorado for being hostile towards him and his religious beliefs. Colorado cake artist Jack Phillips, who won a Supreme Court case over his refusal to make a wedding cake for a gay couple, sued the state after it launched another case against him for declining to create a cake for a transgender woman. Phillips argued the state was acting in bad faith and hostile toward his religious belief because he was treated differently as the state allows other cake artists to decline requests to create customers cakes that express messages they deem objectionable and would not express to anyone, according to court documents. This "disparate treatment … is sufficient to establish they are pursuing the discrimination charges against Phillips in bad faith," the documents said. Alliance Defending Freedom (ADF) Senior Counsel Jim Campbell said in a
press release, "The same agency that the Supreme Court rebuked as hostile to Jack Phillips has remained committed to treating him unequally and forcing him to express messages that violate his religious beliefs.""We look forward to moving forward with this lawsuit to ensure Jack is not forced to create custom cakes that express messages in conflict with his faith," he said.ADF is representing Phillips in the case against the state.
Phillips Faces Further Complaints
The Colorado Civil Rights Commission the same state agency that lost its case against Phillips at the highest court filed a formal complaint against the Christian baker when he refused to make a cake with a blue exterior and pink interior to "celebrate [the seventh anniversary of her] transition from male to female" for Denver attorney, Autumn Scardina. Scardina had ordered the cake on the same day the Supreme Court announced it would hear Phillips' case in June 2017.The commission subsequently ruled in favour for Scardina, saying that Phillips had discriminated against her."The evidence thus demonstrates that the refusal to provide service to [Scardina] was based on [her] transgender status," the director of the state's Civil Rights Division, Aubrey Elenis, wrote in a probable cause determination. Elenis' finding ordered both sides to resolve the issue through "compulsory mediation," the document said. According to ADF, Scardina later asked Phillips to design a cake with satanic themes and images something Phillips also refused due to what the cake would communicate. Campbell said that Phillips is happy to serve all customers, as well as the attorney who lodged the complaint against him but does not create cakes that express messages against or celebrate events in conflict with his religious beliefs."He can't get a fair shake before the state commission. A commissioner set to decide the state's new case against Jack has publicly referred to him as a 'hater' on Twitter, one of several indications of the commission's ongoing bad faith toward him and his beliefs," Campbell said. Phillips's attorney argues the state is violating his First Amendment right to free exercise of religion by continuing to treat him differently than other cake artists, as well as infringing Phillips' free speech and due process rights. He added the commission's adjudicative process is flawed because the same commissioners are acting as both accusers and adjudicators in the same case."Over his years as a cake artist, Phillips has declined to create cakes with various messages that violate his faith, including messages that demean LGBT people, express racism, celebrate Halloween, promote marijuana use, and celebrate or support Satan," the press release said.
In a 2018 Supreme Court case, the court ruled Colorado's Civil Rights Commission was influenced by anti-religious bias in reaching its decision against Phillips. The court said this violated Phillips' rights under the First Amendment."The commission's hostility was inconsistent with the First Amendment's guarantee that our laws be applied in a manner that is neutral toward religion," Justice Anthony Kennedy said in the majority opinion on the case. Kennedy claimed the commission was required under the First Amendment's free exercise clause to "proceed in a manner neutral toward and tolerant of Phillips' religious beliefs."The Supreme Court did not rule on whether Phillips' actions actually violated Colorado's anti-discrimination laws.