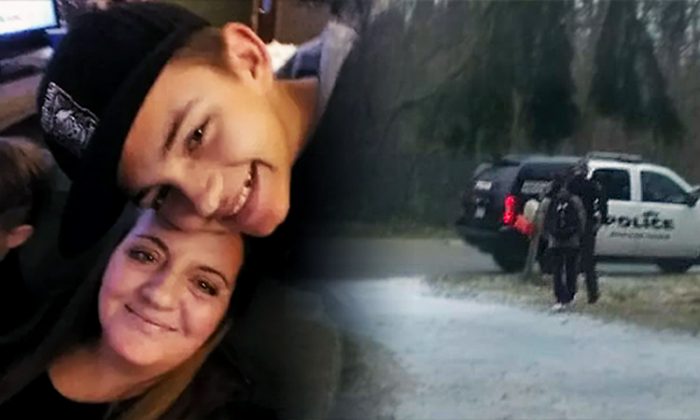 Being a parent is tough work, and being the parent of a sluggish school-aged teen is even tougher. The daily chore of convincing an irritable adolescent to get out of bed and head off to school is a job that tries even the most patient of parental units.
The solution for this Michigan-area mom, though, might be the most incredible if an absolutely extra way of handling the reluctant mornings ever. Crystal Towns, of Grand Blanc Township, Michigan, was sick of the constant battle to get her 13-year-old son, Zachary, up for school. Towns explained that since she works three jobs, she didn't have the time or patience to spend an hour trying to rouse her sleepy teen. So after the back-and-forth had gone on long enough, she brought in the big guns literally. he exasperated mom called the school's resource officer and let him know that with her job, she wasn't going to be able to get the belligerent teen up and out the door. So her solution was to have the police arrive and make sure he did it on his own, escorting him to school to ensure he was there."I woke him up," she said. "He thought he was just going to not go and I said, 'Nope you're learning today boy.'"The move, while seeming extreme, was appreciated by police chief Ron Wiles who insisted that getting kids up and in their seats at school is paramount in promoting a safer society.

BC25 / FOX66 News
✔@nbc25fox66
Parents, we all know about this struggle. Would you call the police on you
N
r child? #morningstruggle #parentlife
Https://
nbc25news.com/news/local/gra
nd-blanc-mom-calls-police-on-son-who-wouldn't-wake-up-for-school
"It's our belief that kids who regularly attend school will have a better chance of staying out of trouble and staying on a path for future success," Wiles said. The story went viral for its hilarity and the sheer level of determination from the mom, whose level of fed-up emotions were all too familiar to parents of teens everywhere. And while a few parents were concerned that she'd gone too far, commenting on social media that maybe she should have stopped short of getting law enforcement involved, there were plenty who couldn't applaud her hard enough."She works THREE JOBS!" one person wrote. "I don't have kids but I'm not about to judge this woman for utilizing the school resources that are available to teach her kid this lesson. I'm sure it's a one time Hail Mary manoeuvred [sic], and I'm sure it worked.""My mom did this to my brother when he was in high school," another added. "She just found out he had been skipping school … One morning when he wouldn't get out of bed, she called the school police and they came and escorted him to school; he never had a problem with getting to school after that day, probably from embarrassment. Towns added that her son isn't a bad kid, and the little nudge to get on track clearly worked. Since the wake-up call he never expected, she told Buzzfeed that he hasn't had an issue getting up.