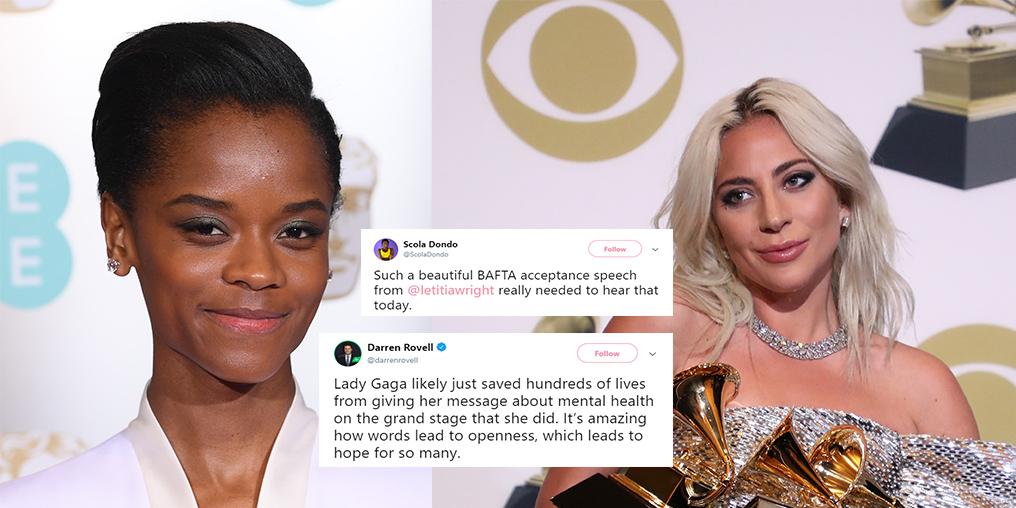 Winners at the Baftas and Grammys used their platform to shout out important causes last night. Musicians and filmmakers took the opportunity to call out the US-Mexico border crisis, gender inequality and the detainment of rapper 21 Savage (although not Post Malone, who forgot to mention him for the song they collaborated on). But two powerful speeches stood out by Letitia Wright and Lady Gaga, who both opened up about mental health. Wright was awarded the prestigious Rising Star prize, previously won by Daniel Kaluuya and Tom Holland, and spoke about how she was "in a deep state of depression" and almost quit acting a few years ago.
BAFTA
✔@BAFTA
You voted, and
@letitiawright
feels your support! Listen to her moving acceptance speech for the
#EERisingStar
award


#EEBAFTAs
#BAFTA
673 people are talking about this
The Black Panther went on to thank her family and her faith in God and encouraged anyone who is struggling with their health to keep going.She said:I want to encourage young people. You don't even have to be young, you can be any age, but I want to encourage you - anyone going through a hard time or something in their soul or they've lost their light... I want to encourage you that God made you and you're important. There might be some of you here who's going through depression, who's going through a bad time and you're putting on a smile on your face and nobody can see that… I just want to encourage you and I want to say that God loves you. Just let your light shine.At the Grammys, Lady Gaga used her acceptance speech for "Shallow" from A Star Is Born to draw attention to mental health issues.
gabby ♡ ✔@gabbyfrost
I really respect lady gaga so much and I'm so glad she's incredibly vocal about mental health. we really do need to emphasize how important asking for help is. it shouldn't be seen as weak to tell someone you need help. 91
22 people are talking about this