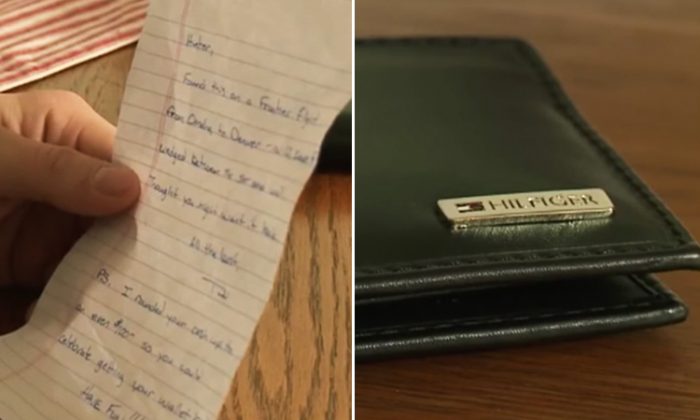 Many people have experienced losing a valuable item like a cell phone, bag, or a wallet. It's not a nice feeling; in fact, it's literally panic stations. However, there are truly some amazing people around. One kind man made it his business to return a lost wallet to its rightful owner, and not just that he literally increased the young man's happiness with a charitable gesture.
Hunter Shamatt, a 20-year-old young man, was en route to attend his sister's wedding in Las Vegas just before Christmas. During the flight, he lost his wallet. After discovering that it was missing, he called Frontier Airlines, hoping that someone had found it and handed it in. But he was out of luck, or so it seemed. Hunter said, "I noticed that I was missing my wallet which had $60 cash and a check for about $400 in it."Jeannie Shamatt, Hunter's mom, took to Facebook sharing that they were "fearing the worst."Just when they thought all was lost, Hunter was pleasantly surprised by a package in the mail, sent to his home in Brandon, South Dakota. The package was accompanied by a note. Hunter was over the moon upon reading it. The note read:
"Found this on a Frontier flight from Omaha to Denver-row 12, seat F wedged between the seat and wall. Thought you might want it back. All the best. PS: I rounded your cash up to an even $100 so you could celebrate getting your wallet back. Have fun!!! TB."
On our way to Vegas for my daughter's wedding last week, Hunter lost his wallet. Unfortunately, it had 60.00 cash, his identification card, his signed paycheck and his debit card. Once we realized the wallet was missing, we called Frontier Airlines to see if someone turned it in. After fearing the worst that everything was gone, tonight Hunter received a package in the mail with his wallet and a letter signed with only initials. On the envelope a return address out of Omaha from Applied Underwriters. We would love to thank the individual personally if we could find him or her. Please help share this post so we can find this amazing person. That was just the best news ever, but who was TB? Todd Brown, a father of five, was the gentleman who reunited Hunter with his wallet, which he discovered stuck between the seats as he was putting on his seatbelt. After pondering whether to give the wallet to the crew, he decided to see to the matter personally. Brown said, "I saw he was just a kid, 20 years old, he had a paycheck in there, so I figured, 'Well, he's doing his best to make ends meet, but I was 20 once, and that's a lot of money for a kid.'He shared that he thought of adding a little something extra whilst packaging the wallet."I wanted to have a little fun, I wanted him to have a little fun, I imagined what it would be like to get your wallet back, so I added a little bit so he could celebrate," says Brown. One can just imagine how relieved he was upon receiving his wallet again and then to discover his cash had been topped up. Hunter and Jeannie made it their mission to find the good Samaritan so that they could thank him. Jeannie shared a picture of the note on Facebook. The envelope return address indicated Omaha from Applied Underwriters. A co-worker who had spoken to Brown connected him with Jeannie Shamatt via Facebook. Finally, the Shamatts were able to meet Brown personally."(I was) quite surprised," Shamatt said. "My whole family was completely amazed."
"I Couldn't believe it, couldn't believe it. Can't thank him enough.""They were very thankful. Hunter was very thankful," Brown said."He told me he has some student loans and a car payment that he needed to make so the timing was right."They assumed it was gone forever. So when he opened it, she said he just started screaming, 'No way! No way!'Jeannie shared her thoughts on a follow-up Facebook post. She wrote that the incident made her think about the value of simple down-to-earth goodness."I try to teach my children to do the right things in life, help people when you can regardless of the outcome," she wrote. "This story is more about restoring faith in people than anything. Everything in the wallet we could [have] replaced. We hear a lot of bad news but not enough good news.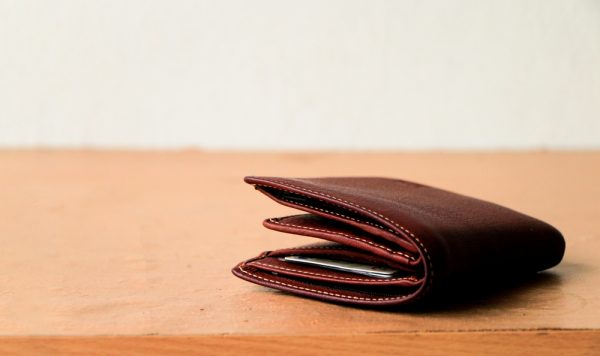 "I personally want to thank Todd Brown and his wife for restoring faith that there are amazing people out there, the world is not as grim as it's being made out to be."Brown's kind act was lauded on Facebook by many. One commenter wrote: "Mr Todd Brown you are an amazing person. hope we have a lot like you in our midst. A salute to you sir, God bless you and your family."Another one also wrote, "Am so happy to hear that there are honest people still around I love it thank you, kind sir.""O, Great Stranger, you are not only honest but also generous!" wrote another netizen. "It gives me great joy that people like you exist. God bless you."A generous soul gives to others like flowing water, it's so refreshing!