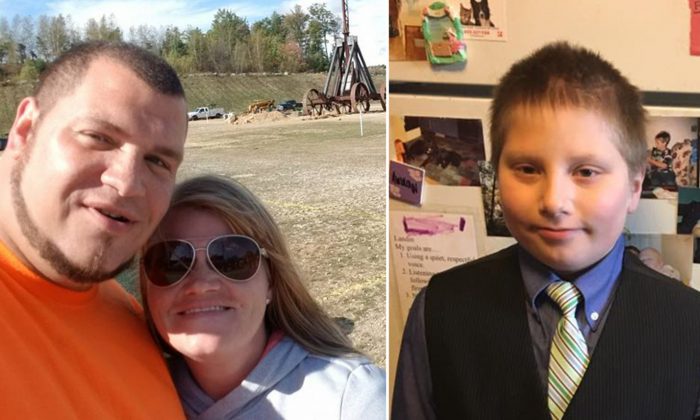 Many people know how important CPR is, but it may be the case that only after a life has been saved through this method does the importance of CPR really sink in. According to the American Heart Association (AHA), there's no minimum age requirement for learning CPR, and children as young as 9 years old are able to perform chest compression on others, depending on their body strength.
For fourth-grader Landin Colson, of New Hampshire, he received CPR training from his nurse, health, and gym teachers at the Simond School in Warner in 2018. It was very lucky life-saving in fact that he was taught these valuable skills. The boy ended up utilizing the emergency skills to help save his dad's life.I asked him if he was OK," Hersey recalled to WMUR. Her husband replied, "Yes," before collapsing in the front yard on the side of the shed."He was unresponsive when I got to him," Hersey said. Sensing it was a matter of life and death, Hersey ran to dial 911, while Landin immediately went into action mode. Landin ran over to his dad and remained by his side. Calmly, he applied the CPR skills he learned at school.
Landin started pressing up and down on his dad's chest, and probably gave him a series of rescue breaths as well, to save his life. While carrying out the chest compressions, Landin told his dad: "Stay with me. I know it's going to be okay. You're just going to the hospital and I know you're going to be better someday."When Hersey returned and saw Landin performing CPR on his dad, she was impressed"I have never seen this child as calm and cool and collected," Hersey said. "He was far calmer than I was."First responders arrived shortly after receiving the call, and Landin's father was taken to the hospital. Thanks to Landin's quick thinking, his father likely escaped a tragic fate. Local police and fire departments lauded him for his heroics. Having made the difference between life and death for his father, Landin, who aspires to be a firefighter or doctor, said, "Yeah, I think I'm a hero."Given his young age, it's simply incredible he was able to stay so calm and levelheaded in such a heart-pounding situation! This story highlights the importance of teaching kids how to administer CPR. Children who know CPR skills can save lives."I think every school should teach children CPR, from kindergarten up," Hersey said. In another situation, a then-13-year-old boy was credited for saving his baseball coach's life after he called 911 and administered CPR when his coach collapsed on the field after a heart attack. Nathan Boyer was an eighth-grader when he was practising drills alone with his coach Isaac Wenrich, who suddenly fell on the field."I'm beyond thankful. I think the Lord brings people in your life for crazy reasons and he just happened to put Nate in mine."Nathan had to do CPR for 4 minutes before the paramedics got there. They said if he didn't do CPR, Isaac would be dead right now," said Katy Huetter, Wenrich's girlfriend
.