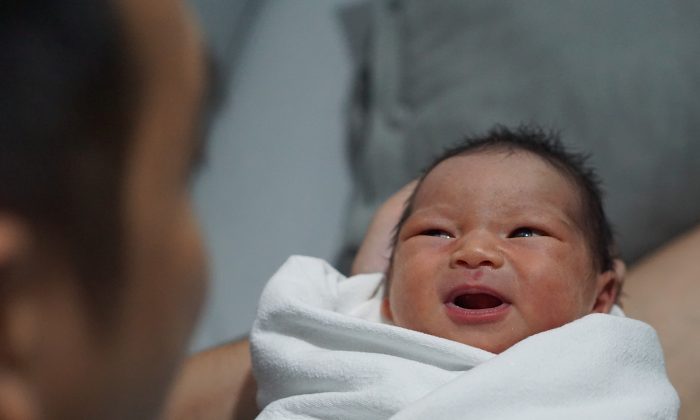 Last-minute shopping before one goes to the hospital to have a baby is often routine for young mothers. But for one pregnant mom in Georgia, she got more than a bargain when she went to Target one day.

Tanya Saint Preux Picault was heavily pregnant when she decided to go shopping at Target in Atlanta on Aug. 25, 2017. She was feeling good until she began going into

labour

.

Fortunately, fellow shopper Lisa Bozeman noticed Picault experiencing some difficulty and approached her.

"[She] walked up and politely said.

Caris Lockwood, then 24 years old, was shopping for shoes when her mother beckoned her to see Picault. One look at Picault and the Piedmont Atlanta Hospital nurse knew straight away that Picault was in

labour

and needed to get to the hospital.

So the trio made their way to the car park when Picault's water broke, and within the next 20 minutes, Lockwood helped Picault deliver a healthy baby boy named Maleek in the Target lot.

"I didn't think she was going to deliver that fast at first, but then she had a really painful contraction and her water broke. As a labour and delivery nurse I kind of knew what was about to happen," Lockwood

said

.

When paramedics arrived, they let Lockwood cut the umbilical cord before taking Picault to the hospital,

Fox5

reported.

Speaking of the experience, Lockwood was only too happy to have been on hand.

"I really wasn't nervous," Lockwood told ABC News. "It was certainly an incredible experience, and [I] truly believe it was one of those moments where God placed the right people in the right place at the right time. I'm grateful that I was there and able to help bring Tanya's baby into the world."

Lockwood's sentiments are echoed by Picault as well.

"God had her there for me that day," Picault

said

. "She did such a great job. It was on the news, and I recorded it so I can show [Maleek] as he gets older."

How fortuitous that Lockwood was at Target with her mother that day and able to help Picault. For both women, it will surely be an experience they will never forget.