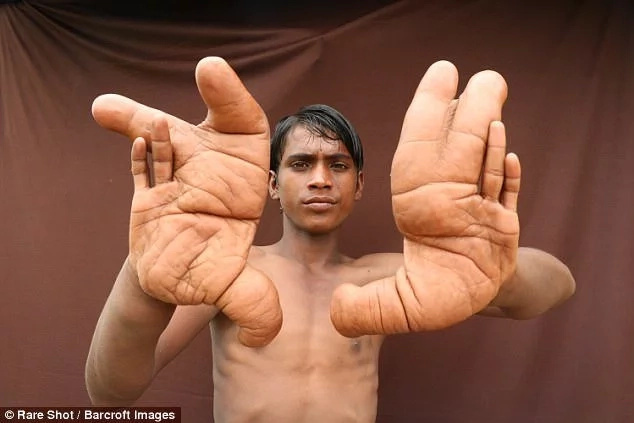 Tarik a young 12-year-old boy, from Uttar Pradesh, India, has a mysterious condition that has caused his hands to grow to a massive 30cm long. Tarik's hands now are so huge that local villagers believe he is cursed and calls him 'devil'.
He has also been refused admission to schools due to fear that he will scare other children. His father passed away and his family is unable to afford money to have him tested. His condition is undiagnosed, although doctors speculate that it may be Elephant Foot disease. Tarik has endured the cruel taunts of villagers who believe his giant hands are a sign he's cursed but he is however optimistic that one day he will be cured. In an interview, he said: "I want to get rid of this condition. I want to become like other kids who go to school every day and play like normal kids.
I see the hope that I will get normal hands."His aunt, Pushpa, said: "Since birth, his hands were always big."As he started growing his hands got bigger."When his father was alive he took him to the local doctors a lot."But his father passed away and he only has his mother now, so he can't get any treatment."Tarik's older brother, Hargyan, takes care of Tarik and helps him with simple daily tasks that his hands prevent him from being able to do.
Hargyan said: "His hands are really big. I have never seen such big hands in my life. He cants even change his clothes. I have to look after Tarik. It's difficult for Tarik to complete his daily chores like bathing, dressing, and eating. The condition, which has not been diagnosed by doctors, has caused Tarik's huge hands to grow, measuring 12 inches from the tip of his thumb to the tip of his first finger. Sadly that has resulted in Tarik being bullied by his neighbours and friends. He was also refused admission to the school. Tarik said I had few friends in the beginning but now I don't have any. His family has appealed for help and is optimistic that medical science will change his condition for the better.