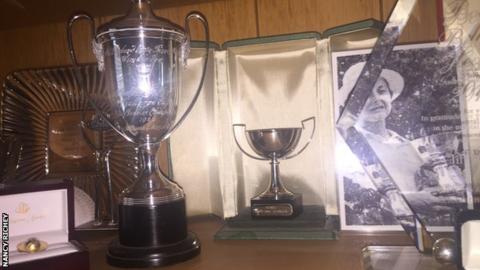 when Nancy Richey won the 1968 French Open,
she never got the prize money, could not ring her parents for the entire tournament and had to change hotels three times in Paris. The American's victory over Briton Ann Jones in the final should have earned her 5,000 francs (£422 - the equivalent of about £7,000 today) the first time prize money was offered at a Grand Slam event but because she, like most of her compatriots, was still an amateur, she could not accept it. Instead, she received her $27 (£11 at the time) daily allowance several weeks later. It was really unbelievable," Richey told BBC Sport. "It disgusts me... [Americans] didn't get to play for the prize money in the first year."She is the only amateur winner of a Grand Slam women's singles title since the start of the Open era and is likely to remain so. But the 75-year-old is not bitter and here describes how being an amateur had its advantages and how the strikes that paralysed France in May 1968 may have helped her win the title. And she also explains why she forgave her mum for answering one piece of fan mail.
Like all Grand Slam events these days, the French Open offers equal prize money for men and women, with singles champions this year set to take home 2.2m euros (£1.92m). But it may never have happened without Richey and the rest of the 'Original 9', who risked suspension or expulsion by the tennis authorities when they set up their circuit, partly in protest at the disparity between men's and women's prize money. They all signed $1 contracts and within the next year, more than 40 players were playing for over $300,000 in prize money. In 1973, their Virginia Slims Circuit became the Women's Tennis Association, which still runs women's tennis today. The 'Original 9' really started pro tennis for the women. I'm more than thrilled that we were the ones who got it to start. It was a special time," Richey said. But does she wish she could have been a player on today's Tour, reaping the full benefit of the huge prizes on offer? No," she said. "At my stature five foot three I don't think there's any way I could compete with the six-footers who are playing today."I'm more than thrilled that we were the ones who got it to start. I'm happy what we did was to get women's tennis where they were playing for lots of prize money."And as the graphic below shows, if Richey had been allowed to accept her prize in 1968 she would have been able to buy 10% of an average-priced house in Britain, while this year's winner could buy more than eight of them.