The Comedy Wildlife Photography Awards have announced its 30 finalists for the year 2018 which is usually determined by the standard of imagery and quality; the humour continues to improve from year to year with new animals that have not been represented. Entries for this year's Comedy Wildlife Photography Awards have been whittled down to 41, with funny bears, owls and moose among the favourites.
The top prize is a safari in Kenya and a trophy, but this year there is also a People's Choice Award, voted for by the public. The contest was set up by wildlife photographers Tom Sullam and Paul Joynson-Hicks to raise awareness of conservation."In just three years, this competition has gone from hilarious to utterly ridiculous humour, all provided to us by these fantastic animals," said Sullam. Judges include wildlife TV presenter Kate Humble, comedian Hugh Dennis and nature expert Will Travers, with the overall winner announced at an awards night.
This is one curious bear we are looking at; one who is looking to develop its career in the art of taking photos.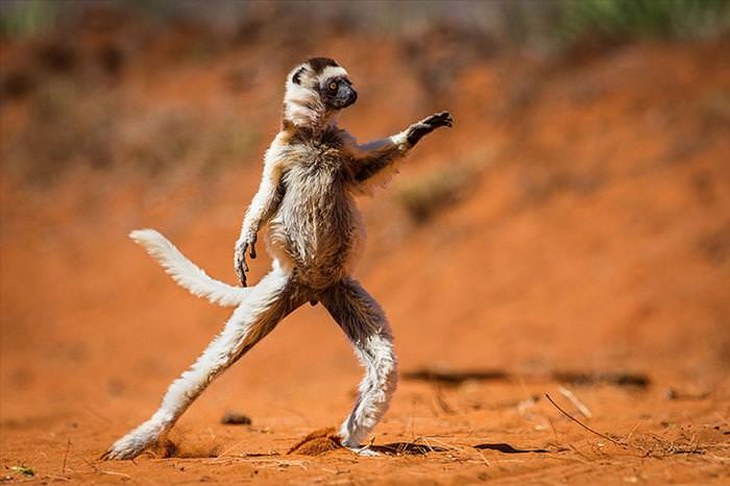 Questions are been asked if he is looking for prey or checking out his surroundings but nonetheless great things await this smart fella.
This is the face and gesture people make when they are caught in the act doing what they are not supposed to. In his little head, he is like 'hey! Put that camera away, I'm trying to hide my stash.
We call this a Rhinopeacock; if only such animal exists, it would be a very special animal and a beautiful one at that, maybe even less aggressive. That's why they say two heads are better than one.
We must confess we have never seen anything like this, it does the split with so much ease that it makes you question its fitness and athleticism; it is capable of competing at any event in the world.
Yeah, Mama is back from a parents-teachers meeting at school and it turns out they have all been naughty at school so mama is trying to figure out the punishment they are going to get.
The King comes home to his Queen only to see her passive which is very unusual. So he asks what the problem is and she replies saying she has a little headache. Move over, let me take care of my lady.
We call them the Black Skimmer Gang. These are seabirds who feed on insects, fishes and smaller animals from aquatic habitats.
They look so notorious in their formation but then you know what's next.
Yes, it is that time of the day when we choose to use the phrase 'love is in the air'. You could either say these guys are on a date, just got engaged or married. It is such a beautiful photo; much credit to the cameraman.
You can refer to this as a proud citizen on duty. The bear is raising awareness concerning his territory; tries to tell us of the impending danger ahead. In other words, if you are going to go through my territory you should at least obey the laws of the land.
Whenever you see a predator in this position there is one thing on its mind which food.
Try as much as possible to stay away from Peek A Boo or else you will serve as a good meal if care is not taken.
This is a Crouching Tiger Peeking Moose in the making. It is interesting it is either playing a hide and seek game or trying to say every breath you take, every moose you make, every bond you break, I'll be watching you.
Isn't it funny to see this lazy guy do some little yoga in the snow? After that, it is time to look for some food, rub my belly and sleep. Nevertheless, we are still proud of his commitment to his daily fitness routine.
The deer is like 'oh you mean Dave'? He is not here; don't ask me we don't talk anymore. Look at his face; he just doesn't know we caught him in a lie. He thinks he's slick.
Winnie just got his head stuck in the honey pot again or was it hunting to trying to hide from the annoying cameraman? These guys won't let the poor bear and its family go about their business in peace.