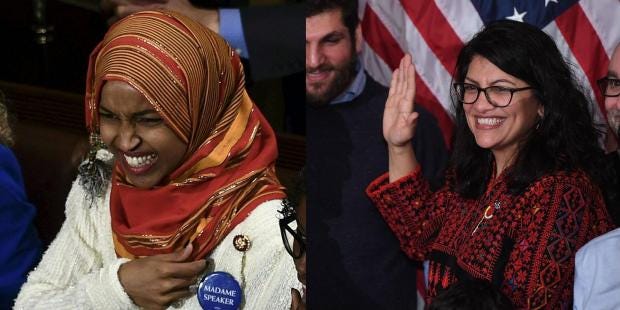 Two Muslim women have made history in America: Ilhan Omar became the first member of the US Congress to wear a hijab, and Rashida Tlaib is the first-ever Palestinian-American congresswoman.
She paid homage to her heritage by wearing a traditional Palestinian thobe for her swearing-in ceremony.
Ilhan Omar, who 23-years-ago had been in a refugee camp in Kenya, was sworn in on the Qur'an and became the first woman to wear a hijab on the floor of the House after a 181-year ban on headwear in the chamber. A Democrat, she also became the first Somali-American to be elected to legislative office in America.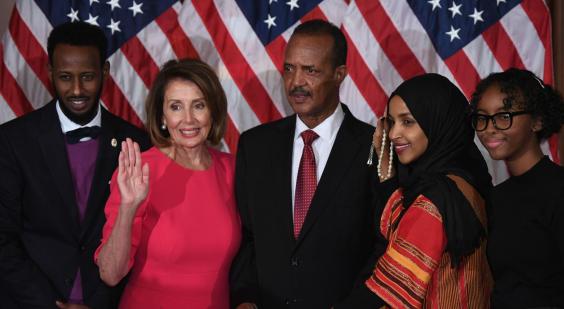 It's a new age for politics in America, with more women and minorities becoming official members of Congress. And there's real support for the woman across the world. Tlaib received praise from Palestinians for her decision to wear the traditional dress, which is an important part of their culture and heritage. Palestinian-American author and professor Susan Muaddi Darraj started #TweetYourThobe to celebrate. Women shared pictures of their thobes and that of their children. It was a beautiful act of solidarity. Of the ban, Omar tweeted last November: "No one puts a scarf on my head but me. It's my choice one protected by the first amendment. And this is not the last ban I'm going to work to lift."Tlaib took her oath on a Qur'an too, a 1734 English translation which once belonged to former president Thomas Jefferson. Paying homage to her Palestinian roots, Tlaib wore a thobe stitched by her mum. Her sons, Adam, 13, and Yousif, seven, stood with her as she cast her vote for Nancy Pelosi as speaker of the House. Of the historic event, Associated Press said: Then Adam shouted Pelosi's name, too, and both followed that with a 'dab' a move favoured by tweens in which the nose is nudged inside one elbow while the opposite hand is raised overhead. Bella Kaufman saw it. Pelosi's granddaughter, nine, jumped up from her seat in the second row and returned the salute. The House's legions of parents of both parties chuckled.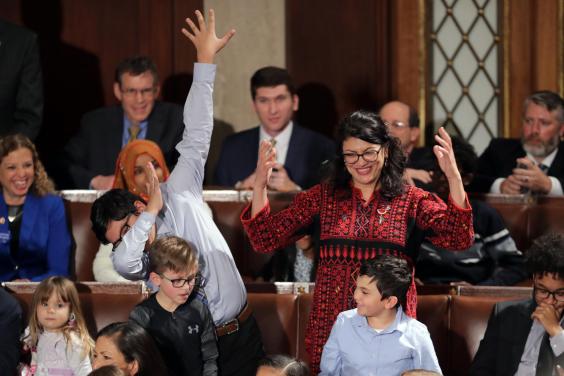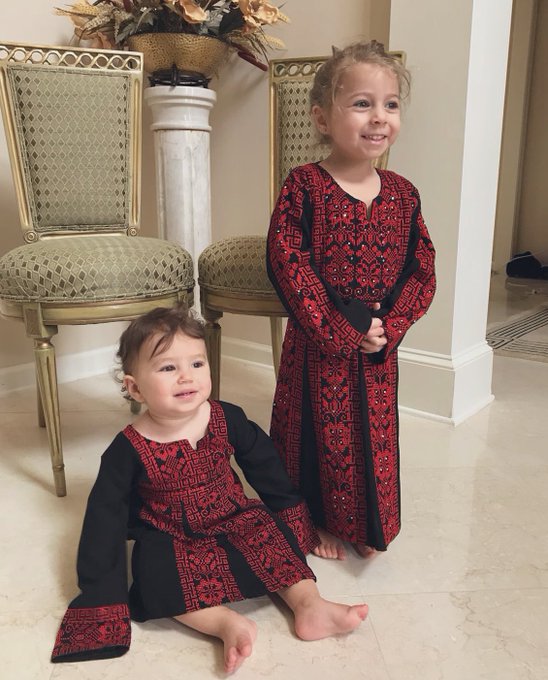 Ayman Mohyeldin ✔@AymanM
As the son of a Palestinian mother, its a milestone for Palestinian-Americans to see their culture and heritage reflected in their elected officials. Young girls like my daughter and niece now have officials they can see & aspire to be like one day! @RashidaTlaib #tweetyourthobe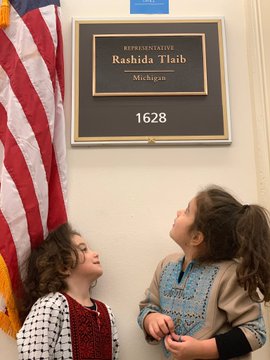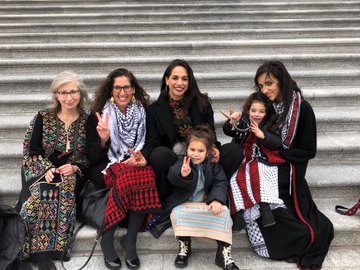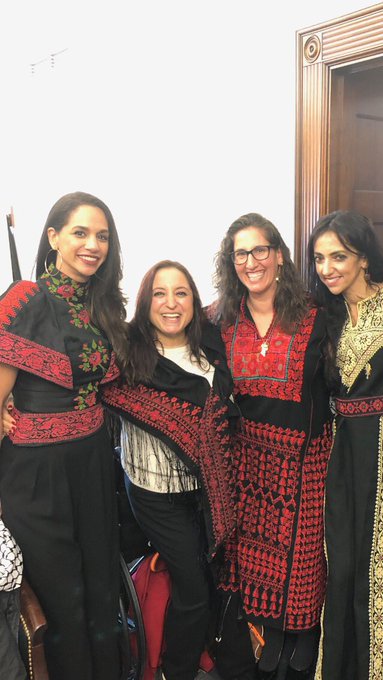 Noura Erakat ✔@4noura
Thank you for inspiring *several* generations @RashidaTlaib. #TweetYourThobe #مبروك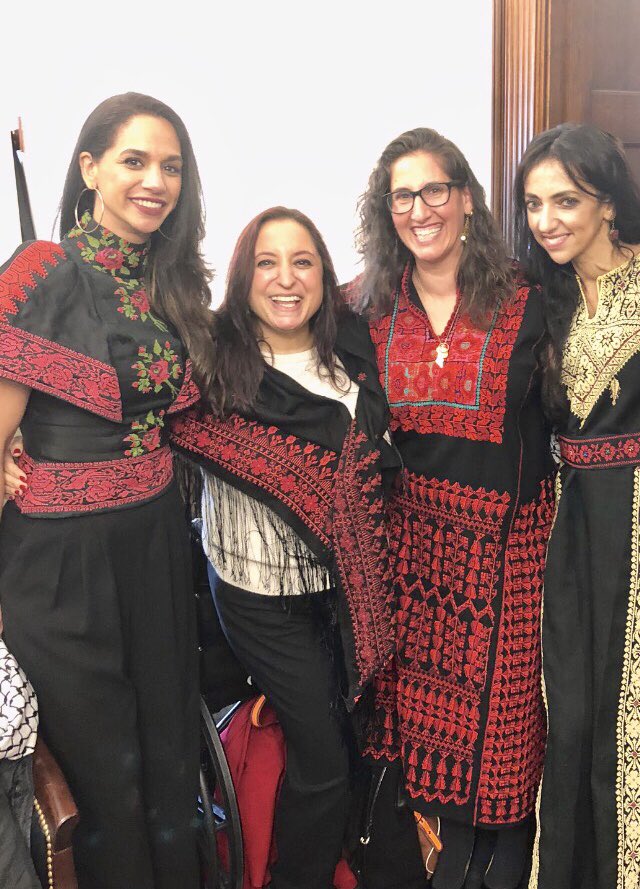 Huwaida Arraf
✔@huwaidaarraf
Palestinian & Proud! Celebrating @RashidaTlaib & this historic moment! #TweetYourThobe w/ @4noura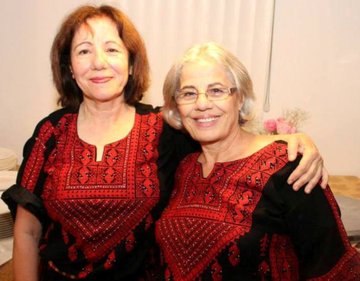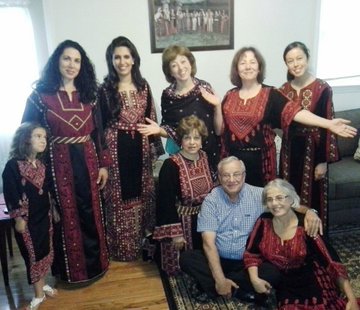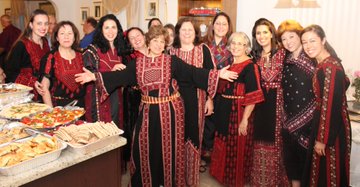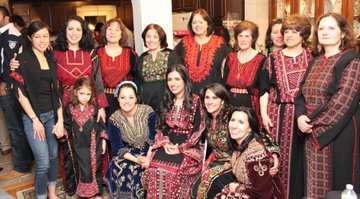 ALICE muaddi@umaboud
#tweetyourthobe Congratulations to Congresswoman Rashida Tlaib! A proud day for Palestinian women. A great role model for young girls. God bless Palestine.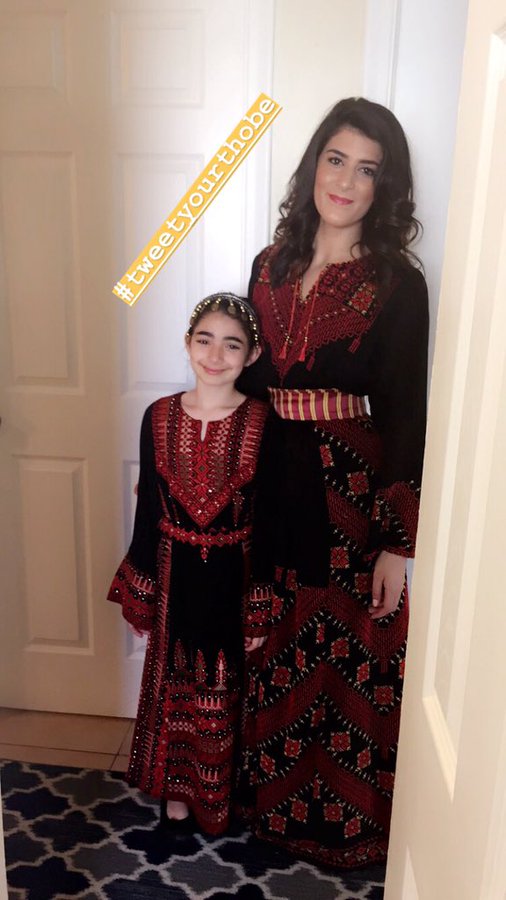 Renad@ririfalastine
#TweetYourThobe so excited for @RashidaTlaib getting sworn in today! Its an inspiration to all us politics lovers especially us Palestinian politics lovers!!
Lena Khalaf Tuffaha@LKTuffaha
Good Morning and Congratulations @RashidaTlaib
This thobe, over 100 years old and from Beer ElSabe3, was a wedding gift from my mother-in-law. Yalla, #TweetYourThobe
Muaddi Darraj said: I wanted to do something that would educate people about our culture. Also, the dresses are really imbued with symbolism and meaning because they're often passed down from mother to daughter and they're hand-stitched. They're actually a form of artwork by Palestinian women. According to the Council On American-Islamic Relations, Islamophobia and bigotry against Muslims have increased as a result of Donald's Trump's behaviour. Muslims are more vulnerable under Trump's administration than they were after the 9/11 attacks. Appointing the two women could help tackle bigotry in a country that sorely needs it.