A thief got the beating and humiliation of his life after he was caught red-handed trying to snatch a handset in traffic. A thief got more than he could chew after he was caught red-handed trying to snatch a handset from a car in traffic.
According to the Facebook user, Ray Timah, luck ran out on the thief as he was dragged and slapped by the car occupants while the vehicle was in motion. The thief begged as he was tortured along the highway in Lagos. Ray Timah wrote; "BAD MARKET" The real version of 99 days for a thief… One day…. Caught red-handed trying to snatch a handset on a traffic stop.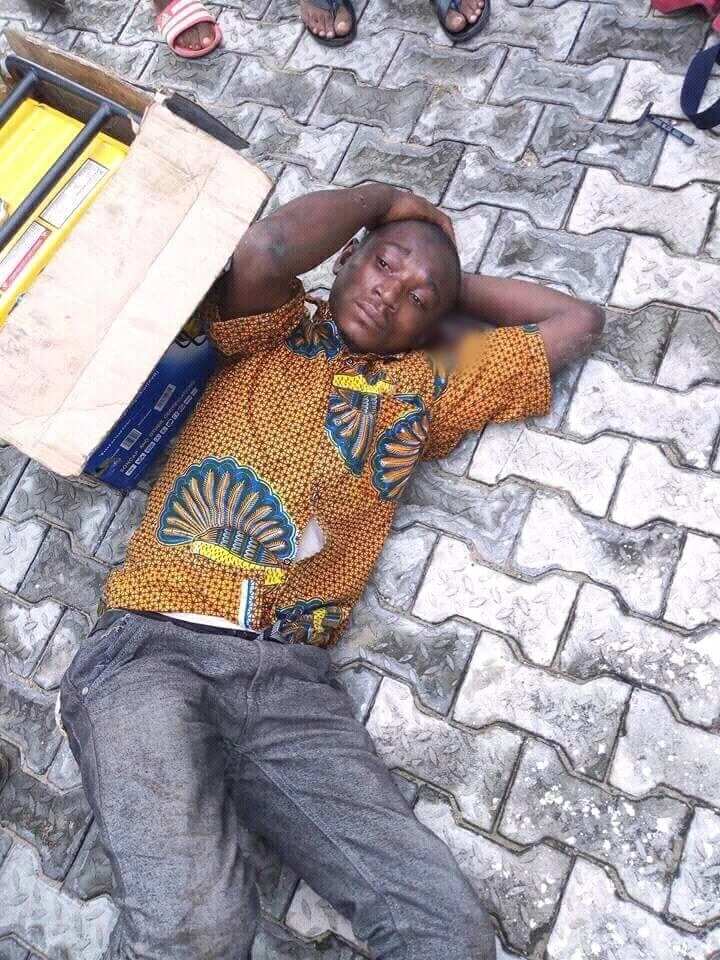 If you may recall, It is no longer news that anyone caught stealing in Nigeria immediately gets disciplined by angry mobs present at the scene of the incident. They get beaten up and some end up dead or saved by the police. According to a Facebook user Okilo Boteach Jared, he took to The Ekpeye Kingdom's Facebook profile to share several pictures of a young man who made attempts to steal his generator. According to his post, after the man was beaten by eyewitnesses, Jared added that he handed over the generator thief to the police. This incident took place in Port Harcourt. "HE CAME TO STEAL MY GENERATOR. THAT I USED IN WORKING PLACE, DE DIAMOND EVENT CENTRE, KM209A EAST WEST ROAD RUMUODARA PH. BUT SECURITY WAS TIGHT. AFTER BEATING I HAVE HANDED HIM OVER TO POLICE."Another man suspected of stealing a Polygon brand bicycle was reportedly beaten to death recently, It happened around 2:30 am, when a group of five men had appeared to be stealing bicycles, witness Nyoman Sukadana told Tribune Bali. Four of them were able to flee the scene and make a getaway, but one was left behind, lying helpless in the street when the angry mob descended upon him, Sudkadana said. But local Petulu village head Agung Setia Darma denies that the man died because "judgement" had been passed down upon him. Based on the word of local residents, the alleged bike thief fell and hit his head in the gutter, he claims. A likely story. "The alleged perpetrator did not necessarily die because he was attacked. From the description of the people, he had fallen and hit his head," Darma told Tribune. Those, of course, are the same "people" who seemed to have had a hand in the man's death
.