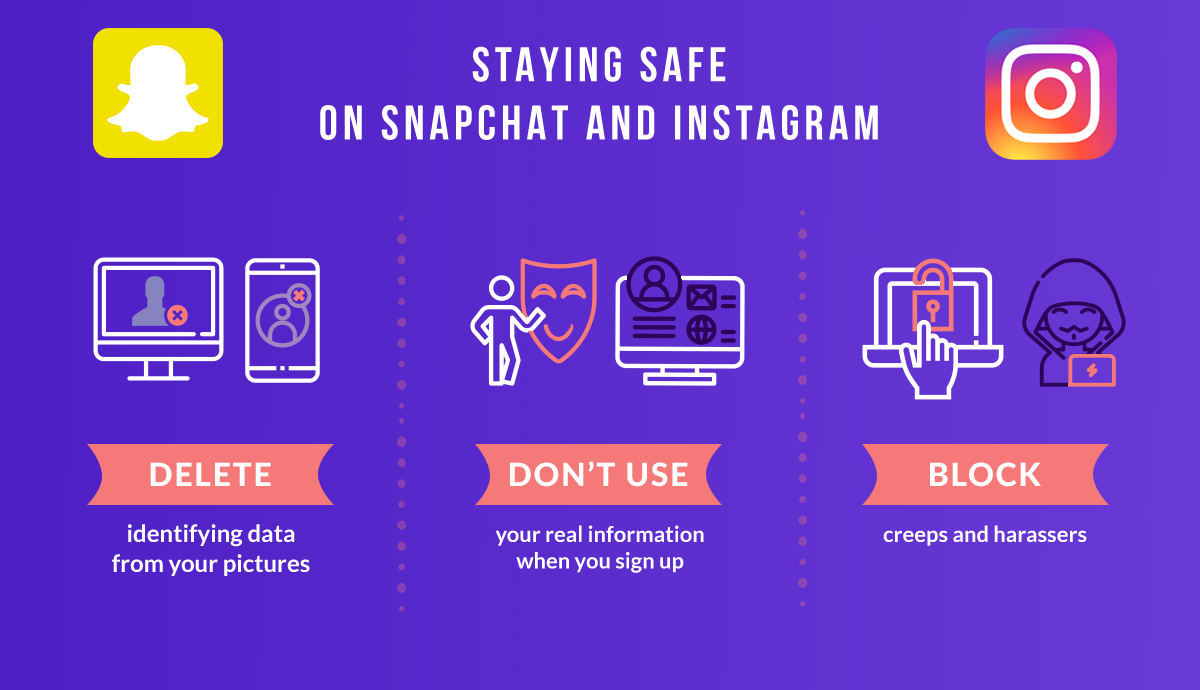 Photos were not the only thing that changed when Instagram started in 2010 and SnapChat in 2012.
Online harassment did too. By making your photos public, anyone can comment on your pictures. Although it's hard to understand why someone would dedicate their time to being a troll, there are those who have a field day searching for photos to insult. Public body shaming comments and DMs (Instagram's version of a private message) with explicit and vulgar language plague millions of accounts every day. Besides trolling, many women are susceptible to revenge porn, dick pics, and other non-consensual nude photography. With different techniques, you can fight back and even prevent some of these scenarios from happening in the first place. Yes, trolls and jerks will find a way to you if you're persistent enough, but by taking the following steps, you can make it that much more difficult for them.
3 Ways to Protect Yourself on Instagram and SnapChat
1. Check Your Pictures for Identifying Data
There are some simple things you can do to make your photos and account a bit safer. Let's say you're at a restaurant and want to Insta a picture of your dish. It's nice to tag the restaurant because it gives them PR. But, by tagging this restaurant, you place yourself in that location. Any stalker now knows exactly where you are. Similarly, if you enable geolocation settings, you're even more at risk. If you snap a picture of your caramel latte from Starbucks, you can be at any of the 27,339 Starbucks around the world. But if your geolocation is on, whoever sees your picture will know exactly where you are. Snapchat unveiled a new feature in June 2017 called SnapMap, which shows the locations of all of your friends on a map. While this might seem innocent, it actually lets others keep constant track of your whereabouts. Turn off the SnapMap feature, and you'll save yourself from a lot of potentially ugly situations.
2. Don't Use Your Real Information
When you sign up for SnapChat, you are required to provide your birthday, phone number, and email address pretty standard for social media apps. But anyone with the slightest bit of tech-savvy can then find that information through your SnapChat account. This makes it extremely easy for someone to take their harassment off SnapChat and onto email, WhatsApp, and plenty of other apps. The best way to protect your information is to hide it. Create a new email address to sign up. Also, use a fake phone number (you know, the one you might give to a creepy guy at the bar who you don't want to call you), and make up a new birth date. Another simple trick that makes it much harder for trolls to access you is to change your account from public to private. This goes for both Instagram and Snapchat. Changing your account to private will limit the people who see your posts to friends, family, or anyone else you choose to approve.
How to Make Your Account Private on SnapChat:
Go to Settings> View My Story> My Friends/Custom. While you're in Settings you can change who can contact you and who can see your location.
How to Make Your Account Private On Instagram:
Go to Settings> Private Account (slide right to enable). If you need to use these apps to promote a product, your company, or yourself, then create a separate account. This way, your personal photos won't get mixed up with your public photos. That said, even if you do all that, rude comments could slip through the cracks. In that case, you'll need to know how to…
3. Block Creeps Both Instagram and Snapchat have blocking options. Using this technique, you can block a user and then delete their comments
How to Block People on Instagram:
Select the person you want to block, tap the three dots in the upper right corner, and then click the block.
How to Block People on SnapChat:
Select the person you want to block, tap the three lines on the upper left corner, and then click the block.