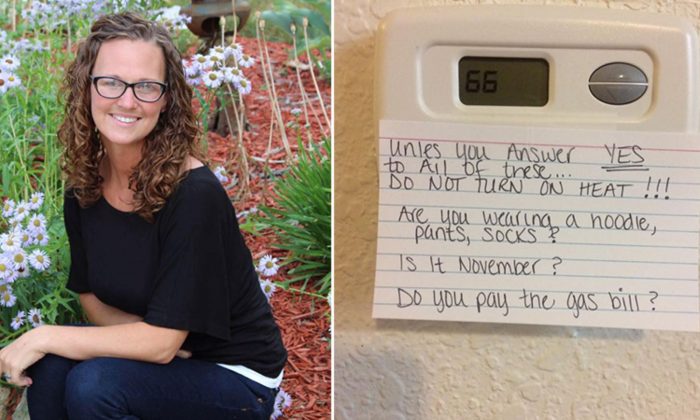 Parents often face some odd situations when their children refuse to listen to them. And how one ends up handling those tantrum episodes entirely depends on the parents.
This Michigan mother found a creative and brilliant way to discipline her sons when they didn't pay heed to her instructions. In October 2016, Autumn Brandon, from Clarkston, Michigan, uploaded a photo to Facebook highlighting her latest "home rules" that everyone in her household had to follow especially her three sons. From the note posted on the thermostat, one could guess how frustrated Brandon was that "someone" in the home had been turning up the heat even when it was not required.
After repeated instructions, the mom of three decided to issue a (hilarious) warning!
The note reads:
"Unless you answer Yes to all of these… Do not turn on the heat!!! "Are you wearing a hoodie, pants, socks? "Is it November? "Do you pay the gas bill?"
Brandon told US Weekly that she had to write the warning because October is the only month when they don't need to use air conditioning or heat."We budget for that," she said. "Also the issue is my oldest walks around in basketball shorts and a T-shirt and says he's cold!"The Facebook photo soon went viral with more than 23,000 shares and 31,000 comments. Brandon was taken aback by the response from everyone. "Never in my wildest dreams did I think this would happen," she told Fox 59.
"It's funny because when my sons found out the post went viral, they just said, 'Mom, that's just 33,000 people that now know how much you nag us.'
After the photo went viral, Brandon told US Weekly that she regretted misspelling the word "unless.""I didn't know this would be seen by so many eyes! Adults spell things wrong sometimes!" she told Fox 59 with a laugh. "If I would have known this was going to go viral, I would have maybe typed it up or something and checked my spelling.
"With so many pairs of eyes looking at her photo, some users commented that they would be following Brandon's method. However, there were some others who disliked her parenting style. One Facebook user wrote: "If my kids are cold they can turn the heater on. They know how high to put it. I don't feel like my kids should always have to wear a sweater at home. I guess when it comes to the comfort of my children I'm not cheap."Well, everyone has a different way of disciplining their children. What do you think of Brandon's parenting skills
?