Traffic-based updates, while important, are hardly the most exhilarating thing in the world.
A quick scroll down Transport for London's (TfL's) Twitter feed reveals countless tweets about collisions here and delays there, without so much as a single like or retweet. however, two seagulls have rapidly become viral stars in the world of traffic-based reporting after repeatedly landing on a traffic camera on Brunswick Road.
The roaming/flying reporters have become a huge hit among people who find seagulls sitting in front of a camera more entertaining than traffic updates, which is basically everyone. TfL tweeted a video of one of the roadside gulls earlier today (Tuesday), with the caption: "Due to popular demand, a quick update from our popular reporter just north of the Blackwall Tunnel."That tweet has since been liked 18,000 times and watched 600,000 times so you can see the gulls really are the stuff of a local government body social media manager's dream.
Fortunately for TfL (and all of us), this doesn't seem to have been a fly-by visit from the gulls, who have dropped by on numerous occasions now. TfL has affectionately named them as Graeme and Steve, which seem quite fitting, though it is unclear how TfL has been able to properly verify the sex of the gulls through the traffic camera... Perhaps they will tweet out a more X-rated video of Graeme and Steve at Brunswick Road later. We were first introduced to the pair on Monday, and they have returned to the same spot several times today.
TfL Traffic News
@TfLTrafficNews
19.1K
5,079 people are talking about this
Safe to say, the people of Twitter have had their fun with the new gulls in their lives, mostly through the form of bird-based puns fowl traffic', 'beak careful drivers', 'bird's eye view' etc.
One person said: "Future Mayor of London I think."Another added: "I, for one welcome our new common gull overlords".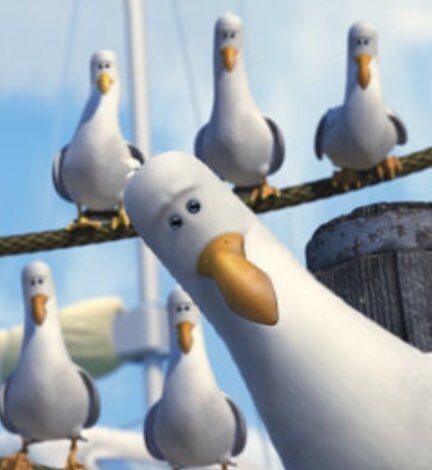 Meanwhile, a TfL spokesman has thanked Graeme and Steve for their help.
He told the
Daily Mail
: "Our cameras usually give us a bird's eye view of traffic across London, but we'd like to thank our new colleagues Graeme and Steve for helping out at beak times."Top work boys (or potentially girls).