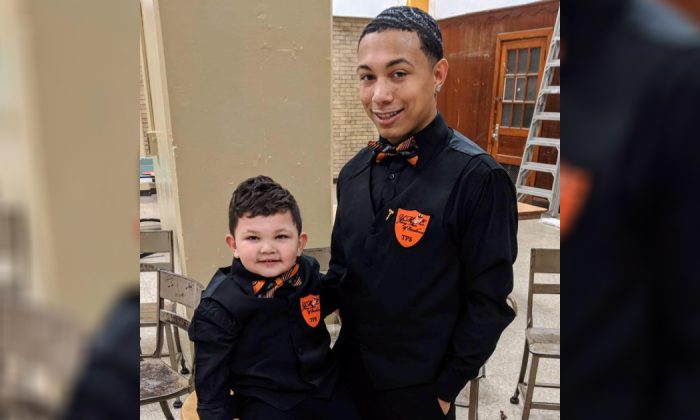 An Ohio high school senior revealed having a baby helped motivate him to finish his studies and achieve top grades on May 28.
Waite High School Senior Neko Brown has not only juggled his academic commitments but also the responsibility of caring for his son, little Neko. He persevered through a difficult four years since discovering when he was a freshman the shocking news that he was going to be a father."I am feeling like this is the end of the world, this is what it is, I cried out my tears, I was crying and I don't know what I am going to do," Brown told WTVG 13 ABC.
He did not know how he would make ends meet if he continued to study."I am already as poor as it is. I can't take care of my baby. It is just crazy," he said. Thankfully, instead of dropping out of high school, Brown sought advice from his school counsellor who encouraged him to think of the example he was setting for his child."We told him that little Neko is going to watch what you do much more than listen to what he is going to say and if you graduate from high school he is going to graduate from high school," Waite High School Counselor Josh Vance said. "If you graduate from college, he will graduate from college. If you stay active and involved, that is what he is going to aspire to."The counsellor also encouraged Brown to avoid becoming yet another high school dropout statistic."He told me, 'either you can be the person you don't want to be and try to like avoid it [little Neko] and think it's not there, or you can just step up and be a man and take care [of] and raise your child,'" Brown said. This started a four-year journey that led Brown to become a leader of the Young Men of Excellence Initiative, captain of the Waite Indians school football team, and a man of his word to balance daddy duties with the high demands of school. Brown believes he has struck that fine balance between studies and family."I was saying wow like I did it. I actually accomplished it with a kid," he said. Little Neko watched his father graduate with honours and might one day realize he was the little inspiration behind his father's success. This fall, Brown plans to continue his studies at the University of Toledo where he hopes to become a nurse practitioner.He said he hopes other teenage parents will be inspired by his story to continue their studies and set a very positive example for their newborns.