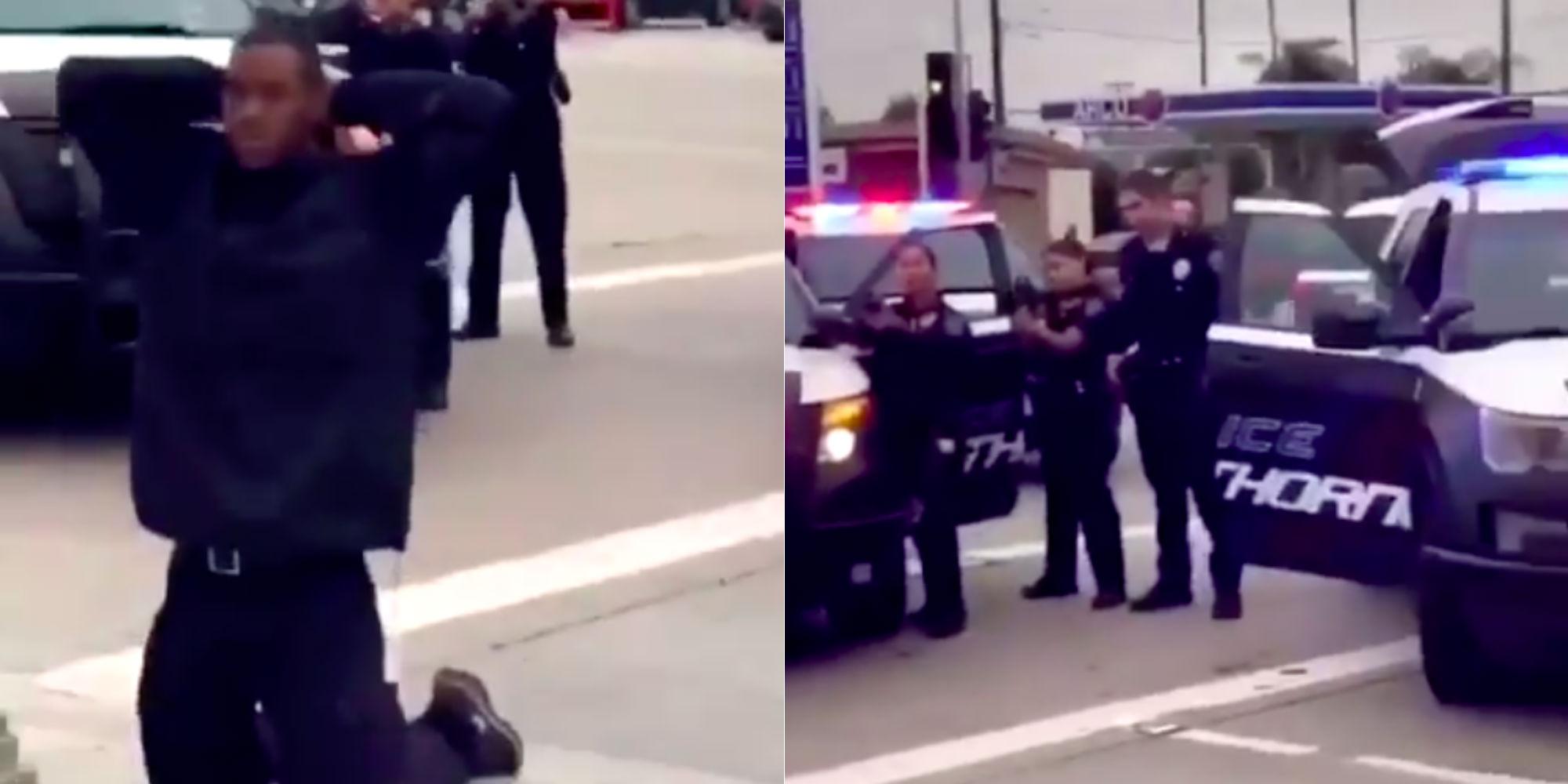 In a now-viral video, police officers in Los Angeles can be seen pointing their guns at a young, unarmed black man who is kneeling on the curb at the side of a road.
The distressing footage was filmed by Sky Holsey in Hawthorne, California, and she posted the nearly five-minute video to Instagram on June 8. When it was shared to Twitter, it wracked up nearly 6 million views.
Taking to Twitter, social media user Rebecca Kavanagh wrote: Cops with guns drawn surrounded an unarmed Black man, William, who was kneeling on the ground with his hands in the air, in California this AM. It's filmed by a young woman, Skye, who I think literally saves his life. Listening to her is gut-wrenching. In the video, a highly agitated Holsey can be heard saying: Is all that really necessary ma'am? Are all the guns drawn on him really necessary?
She then adds: Relax. Because they will shoot you. They killed my boyfriend in 2015. Yes, he was killed by the police. In the footage, a young black man can be seen kneeling on the ground with his hands behind his head, facing away from officers. By the time the video had been started, four officers had already converged on the man. He can be heard desperately shouting: I have no weapons! At the start of the video, Hosley didn't know why he'd been detained, however, the police were responding to a call about a robbery at a gas station some 15 miles northwest of Los Angeles, reports CBS. The suspect, identified by Hawthorne Police as 24-year-old William Ewell, was accused of stealing from a gas station in the town just outside of Los Angeles. Speaking to CBS, Holsey explained how the first officer on the scene was a woman, and she said: I kind of understood her perspective of pulling the gun out because she was a smaller woman. But when the second officer pulled up... he drew his gun as well. Then, a third officer followed suit and did the same, followed by a fourth who pulled out an even larger gun. Eventually, seven officers, some with guns drawn, walk up to Ewell and handcuff him. Speaking to the outlet, she said: I was so nervous. I was nervous about the boy. Holsey also explained how in 2015, the LA County Sheriff's Department shot and killed her boyfriend and the father of her children. Speaking to CBS, she said: It broke my heart because I didn't think our system was so corrupt. I didn't think this is how life went until it happened to me. Her boyfriend, Leroy Browning, had crashed into the side of a Taco Bell and was suspected of driving under the influence.