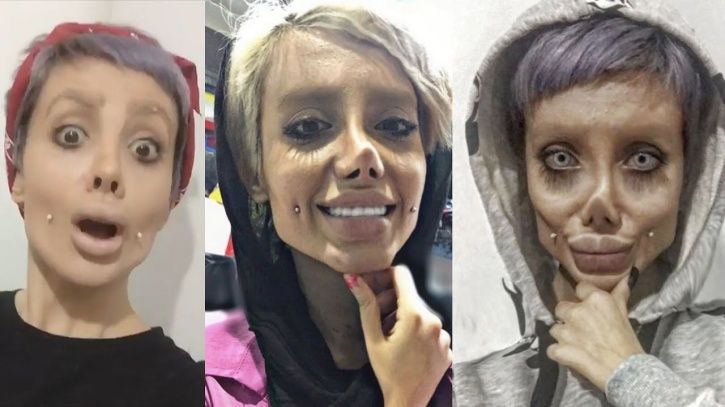 Back in 2017, a woman became a viral juggernaut when she shared pictures of an extreme makeover she'd undergone in the hopes it would make her look like her Hollywood idol, Angelina Jolie.
However, the end result left a lot to be desired and the 'surgeries' Sahar Tabar allegedly 'underwent' left her looking more like a zombie than a Hollywood A-lister. Thankfully it transpired Sahar was actually just joking and she'd used a combination of make-up and photoshop to transform herself into a ghoul, not irreversible cosmetic surgery. Speaking to the Russian news website Sputnik, she revealed she hadn't actually intended to look like Angelina Jolie but ran with it when people started commenting on the likeness.
I did not even think about being like Jolie. Also, I did not want to resemble the cartoon character the Corpse Bride. Now I can see that I have something in common with her [Angelina Jolie], but I amuse myself, and to look like someone is not my goal. Over time I post a photo, I make my face more fun and funny, it is a form of self-expression, a kind of art. My fans know that this is not my real face. When Sahar's creepy doctored photos first emerged online people were horrified at her skeletal frame, greying skin and swollen face which gave her a distinctly 'undead' appearance. People were also outraged at reports in the Evening Standard saying she'd lost 40kg and undergone fifty separate procedures in just a few months to look like Jolie. In reality, though, Sahar is just a normal-looking woman who, ironically, has since had a few operations, although not to look like Angelina Jolie and nowhere near as extreme as her haunting photoshop work.
She explained to Sputnik:
I have had my nose operated, my lips were enlarged and I also had liposuction. I do not see anything terrible in the operations, many people do this kind of procedure all over the planet. More power to her it's her face, who are we to judge. Getting plastic surgery to look like a movie star isn't even that controversial anymore anyway, especially compared to those making themselves look like Snapchat filters. Apparently, it's a phenomenon known as Snapchat Dysmorphia. Dr. Tijion Esho, a medical aesthetician and founder of the ESHO clinic, coined the term after being inundated with requests to look like Snapchat filters.
With filtered images it was even more of a cause for greater concern as many believed these changes to their face with filters at a click of a button were so easy, this would be the case in real life. This is a very unrealistic and also dangerous expectation, as it trivializes procedures that are potentially high risk and it also sets up patients to live with unrealistic expectations of how they see themselves physically. Body dysmorphic disorders can lead to a cosmetic surgery addiction which can have devastating effects on people's lives
.