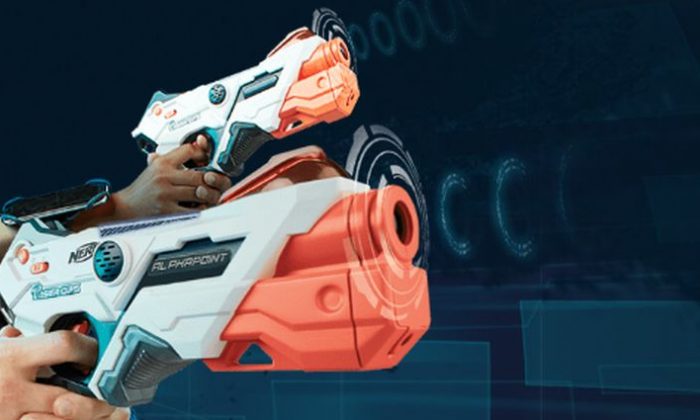 The mother of a Welsh boy said he lost his eye after being struck twice in the same eye by a Nerf gun. Taylor-Jay Ravicini, 9, was hit in the eye by a Nerf projectile when he was 3 years old, forcing doctors to perform surgery.
But six years later, he was playing with a Nerf gun again, and a foam ball hit him in the same eye, forcing doctors to remove it. The eye was too damaged and now he's one got one."The first time it was a freak accident. I was there with my three children and everything just happened in a flash," his 35-year-old mother, Stacey, said."What are the chances of an accident happening twice in the same eye?" Stacey asked. The mother is now fundraising to buy the boy a more realistic prosthetic eye."After this, I was given a permanent bespoke prosthetic eye," reads a GoFundMe page for the boy.


"Unfortunately, it doesn't look as good as my tempory one and I would like to raise enough money to go and see a private ocular prosthesis specialist so I can get a more realistic eye made for me (sic)."It adds: "(sic) After many trips to the hospital where I was given treatment to reduce the pressure in my eye, it just kept filling back up with pressure. We were referred to an eye specialist who was concerned about my good eye and the sight that I have in it. He told me that there was a condition that would look for protein in my good eye and start to eat away at my good eye be a us it wouldn't find protein in my bad eye."They're trying to raise about £2,500 ($3,100) for a new eye."I was downstairs and I heard a devastating scream and my heart sunk, I couldn't even go to see him, I sent my partner as I knew something had happened," she was quoted as saying.


"Taylor's eye was full of blood and it was causing a build-up of pressure," she said. "Doctors told us that he risked losing sight in both eyes if we didn't remove the damaged one."The mother said she's concerned about the boy's welfare, saying, "I really don't want people thinking I am a bad mother."She added: "I am constantly worrying for him and what will happen next, it has just been one big emotional rollercoaster. I hope people understand how much he needs this prosthetic eye."Neither Nerf or its parent company, Hasbro, issued a comment about the incident. In 2017, doctors issued a warning that Nerf guns can cause irreversible eye damage, saying Nerf bullets can cause internal bleeding around the eye and blurred vision. The doctors at the time called for a "reconsideration of the safe age limits for Nerf gun use in children."Officials said three patients suffered injury from Nerf guns in separate incidents. All had internal bleeding.