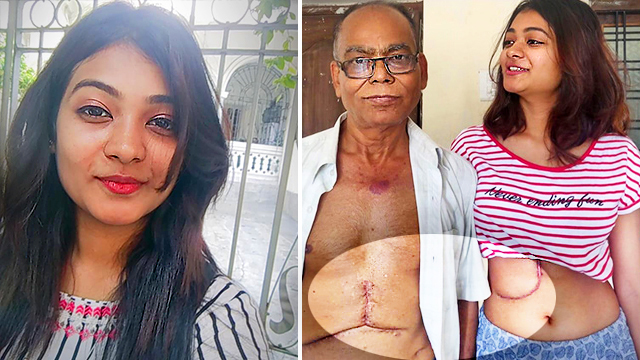 We've all seen stories of parents doing just about everything in their power to help their children, and there's often little that the children are able to give in return that can make up for the sacrifice and selflessness their parents have shown
. For 19-year-old Rakhi Dutta, of Kolkata, India, though, the chance to save her father's life was something she couldn't pass up and thanks to her unbelievably strong spirit, she'll get to spend even more time with the man who raised her. Dutta went viral two weeks ago when her friend, Devarchita Das, shared on Facebook that the teen girl had donated 65 per cent of her liver to her father to save his life. Sudip Dutta had been diagnosed as hepatitis B positive, and despite spending 20 days in a local hospital was failing to get any better. His elder daughter, Ruby, discharged him and brought him to Asian Institute of Gastroenterology (AIG) in Gachibowli, Hyderabad, where she hoped to be able to donate her own liver. After extensive testing showed that Ruby wasn't a good candidate, though, younger daughter Rakhi didn't think twice. Sitting through 105 tests and a 15-hour procedure, the 19-year-old young woman donated nearly two-thirds of her liver to her father in order to increase his odds of survival. Even considering the fact that her liver would fully regrow in around three to four months following the procedure, it was a remarkably selfless move and one that truly showed how much love a child can have for their parent.
Despite a potential mortality risk, Sudip survived the procedure and in the aftermath, the father-and-daughter duo posed with their shirts up to reveal their matching scars to commemorate what had been done. The story was picked up by an Indian entrepreneur named Harsh Goenka, of Mumbai, who used it to promote both Dutta's love for her father and the need to change the stigma against daughters that's still all too present in rural India."Rakhi Dutta, a 19-year-old donated 65% of her liver to her father who was suffering from a serious ailment, without even thinking of the scars, pain or any future threat."An answer to all who think daughters are useless," he added.
Rural India still has pockets where communities operate using the ancient caste system, and there is still often a dowry paid by the woman's family when she is married to another. This leaves a patriarchal society that tends to undervalue women, and daughters were becoming so devalued compared to sons that there were widespread reports of female infanticide by families who didn't want the economic burden of having daughters. This story, Goenka shared, was a fantastic example of why the old perceptions about daughters are so remarkably false. And other social media users quickly piled on from around India, sharing their own delight and love for daughters as well."This is my Mom and Grand Dad (Her Dad) way back in 1977 when she was just an undergraduate student… She donated her kidney to her dad at a time when there was a lot of taboo regarding this. Definitely, daughters Are the best Sir,"