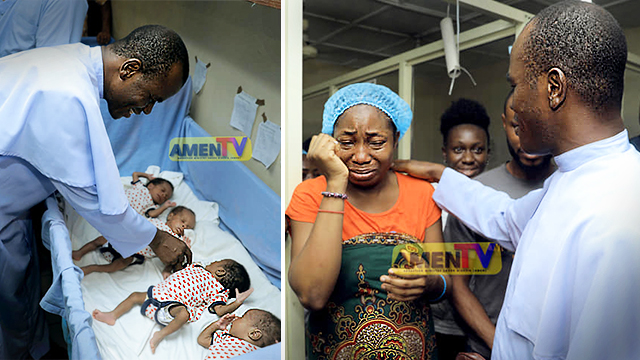 It was her faith in God that took away her worries despite being pregnant with quadruplets and having no idea how she and her husband would handle the burden. Yet, when the 34-year-old Nigerian woman gave birth recently, you might say that a miracle happened. The woman, who was from Awka, Anambra state, and her husband, a business owner, were prepared for one baby; when they learned that it was going to be multiple pregnancies, financial concerns began to loom over the family.
The couple had had their first son four years earlier, and the wife would have known what to expect had it been a single baby again. This time would be different. Yet, their faith in God gave them reassurance."I was like, 'Wow!'" she told Legit TV in an interview. "Anyway, I thank God, because I know that God does not give you what you cannot handle."Soon, they became aware of how difficult the burden would be. With four babies, there were so many complexities, things that could go wrong each step along the way. They would have to move her into the hospital in order to manage the pregnancy, which would be expensive enough. When it finally became unmanageable should there be too much discomfort or pain the babies would be taken out prematurely and nursed in incubators, and that would be even more expensive."The average cost is 20,000 [naira] per baby, per day," the father told Legit TV. That's around US$220 for all four children per day. Well, thankfully, it all went according to plan. Meanwhile, the parents prayed for financial assistance and hoped the government would step in to take care of their medical costs. Shortly after the four new family members entered the world, though, someone did step in though it wasn't the government. It was Father Ejike Mbaka, the founder of the Adoration Ministry in Enugu state. He had come to visit the babies … and to deliver the miracle their parents had prayed for.
The spiritual director handed a cheque in the amount of 3.5 million nairas (around US$9,710) to the new mother, and she burst into tears. This would cover their hospital bill of 1.5 million nairas and go toward supporting her husband's business. Afterwards, he left them with his prayers and blessing. Prophetically, the new mother's faithful words before the birth came to pass in the end: "God has made it so God will give everybody the one she will carry, and God will bless all of them.