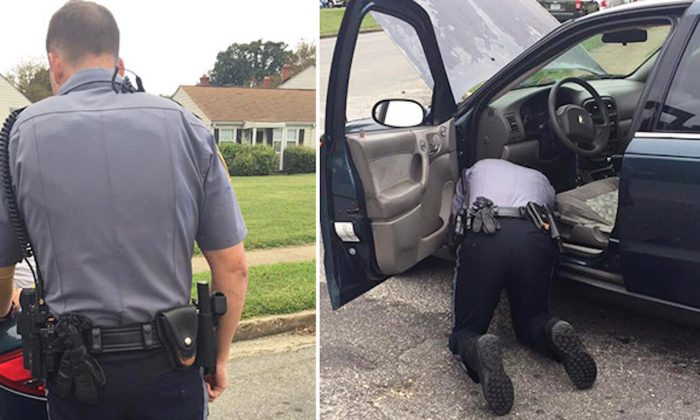 One day in September 2017, Chy-Niece Thacker, from Richmond, was pulled over by a Henrico County Police officer while on the way to a job interview.
However, as she went to grab her license and registration, Officer Jenkins said: "Don't worry about pulling anything out."It turned out Thacker was pulled over by Officer Jenkins as both her brake lights had gone off. " I just want you to know that your brake lights are out," the kind officer told her."I'm immediately upset because I just got them replaced like last month," Thacker wrote in a Facebook post.
Thacker had been having a problem with her brake lights for quite a while, and she even told the cop that the mechanic wanted to collect US$600 to test the wiring of her vehicle. Then Officer Jenkins reacted in a way she didn't expect: "He looked at me like and told me to pop the trunk. He checked the lights in the trunk and tapped them, but they didn't come on. So he told me to pop the hood to check the relay box then asked me to get out to check the other one."
Jenkins checked the connections on the tail lights and soon after had Thacker safely back on the road, on her way to her job interview. Thacker was touched. "He could've easily given me a ticket, but Officer Jenkins stepped out of officer role and into the mechanic role to make sure I was straight. #HesABlessing," she wrote. In an interview with WTVR CBS 6, Thacker said that the officer told her that he cared more about her safety than about giving her a ticket. "I don't want anyone slamming into the back of you," she recalled Officer Jenkins saying.
Thacker's post recalling the heartwarming incident has since garnered more than 486,000 reactions and over 97,000 shares. Needless to say, the story warmed the hearts of Thacker's Facebook friends and many online netizens. "Sweet really brought tears to my eyes. God is Good! Glad you are alright," one wrote."I've had a run-in with Officer Jenkins as well!! He did the same for me when I had a tail light out. He gives VA cops a good name," another remarked.