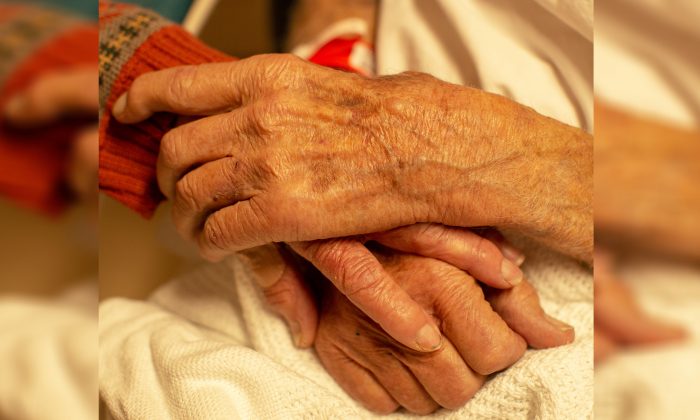 Hailing from Irby, a village on the Wirral Peninsula, England, both of these two parents were diagnosed simultaneously with terminal cancers.
The heartbreaking photograph shows them side by side, clasping hands in their hospital beds and saying goodbye to each other for the last time. The photo was shared online by the children to express how this tragedy destroyed their family and to tell the world how much their parents loved one another. Their father, Mike Bennet, 57, died just a few days after the photo was taken. It was then published while their mother, Julie Bennet, 50, lay dying in her bed at the St. John's Hospice in Wirral.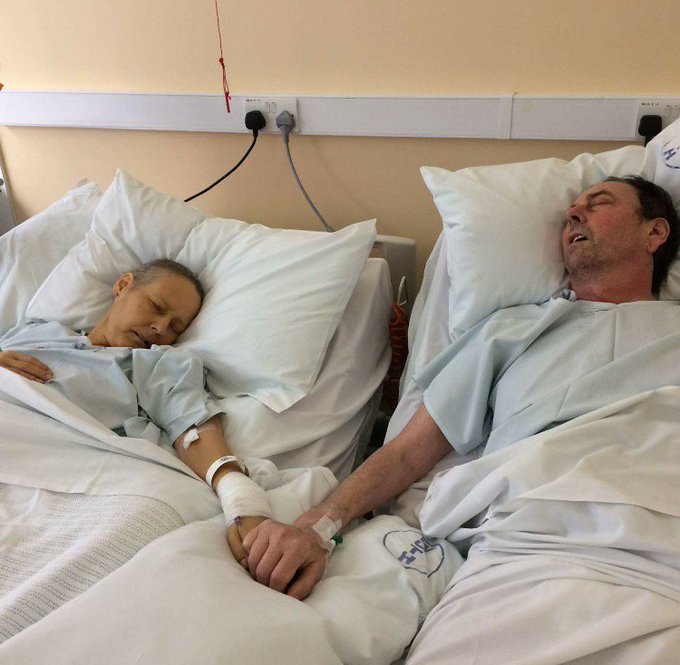 Mike had been diagnosed with cancer after a tumor was discovered in his brain in 2013. His wife and children cared for him at that time while he was still living at home. In Feb. 6, 2017, Mike passed away while his wife and children were right beside him. A terminally ill Julie drew her last breath five days later on Feb. 11, 2017. After Julie was diagnosed with liver and kidney cancer in 2016, and after it had begun to spread inside her body, friends of the family promised that on her deathbed they would ensure that the children were looked after."I told her the community would come together to help look after her kids—and she opened her eyes and smiled," Sue Wright, a friend of the Bennet family, said"Words cannot express our desperate sadness for such a beautiful family," Wright said. "Julie has kept the children in a normal routine whilst dealing with Mike's illness over the past few years."
The children's spokesperson, and friend of the family, Heather Heaton Gallagher said: "Facing a double terminal cancer diagnosis is beyond belief and, as a community, we are working hard to support the family so that they can stay together and ensure that they can continue their education as planned."The Bennet children's father, Mike, had been a self-employed cabinetmaker and had been an apprentice in Liverpool, working for Baldock's Furniture Makers. Their mother had been a primary school teacher at the Somerville School in Wallasey. With the passing of their parents, Heather hopes to see the children be able to continue to follow their life paths still intact.
Heather shared a few of her major concerns for the kids' future: "The biggest challenge is that the family car, a Motability car has to be returned meaning that the kids can't get around to manage practical and personal activities.""Julie and Mike have been the most supportive parents encouraging their children's interest in dance and acting from a very early age," she continued. "All three children thrive on the stage and I know that Julie and Mike would not want this to stop their children from dancing and performing. To help them do this, we need to make them mobile again and help cover the costs that this brings."
Hence, an online crowdfunding campaign was started to raise funds so that the three children, Oliver, then-13, Hannah, then 18, and Luke, then 21, would be able to continue living in their family home and successfully face a new stage in their lives—one without their parents.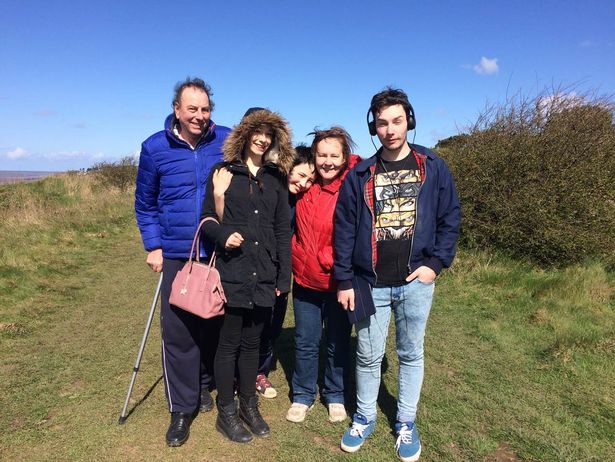 Amazingly, the generous public donated 276,820 pounds (US$345,312) via the crowdfunding campaign to help the siblings. In response to all of the support from the community, the children also expressed their gratitude. The eldest son, Luke, said: "My brother, sister and I are overwhelmed by the enormous support and generosity we have received from so many friends and well-wishers.""Mom has appreciated all the help from close friends in supporting the family over the last three years through difficult times and it would be a huge relief to her to know this support will continue he said.