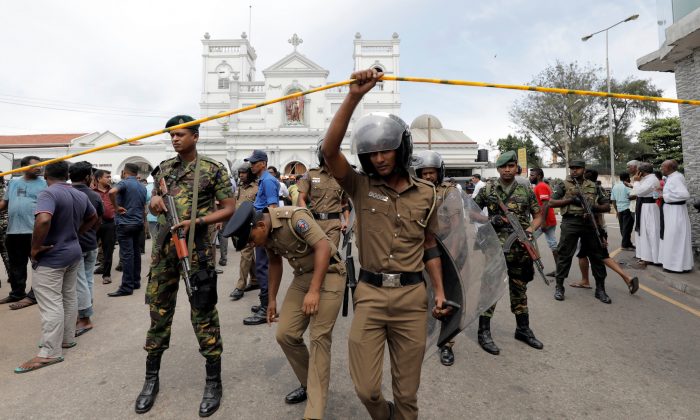 COLOMBO, Sri Lanka Six bomb blasts that went off close to simultaneously on Easter Day at three Sri Lankan churches and three luxury hotels have killed at least 160 people and wounded around 400, hospital and police officials said.
All six blasts occurred around 8:45 a.m. as Easter Sunday masses were underway in the churches. In just one church, St. Sebastian's in Katuwapitiya, north of Colombo, more than 50 people were killed, a police official told Reuters, with pictures showing bodies on the ground, blood on the pews, and a destroyed roof. Media reported 25 people were also killed in an attack on a church in Batticaloa in Eastern Province. The three hotels hit were the Shangri-La Colombo, Kingsbury Hotel, and Cinnamon Grand Colombo. It was unclear whether there were any casualties in the hotels. There were no immediate claims of responsibility for the attacks. Prime Minister Ranil Wickremesinghe called a national security council meeting at his home for later in the day.
"I strongly condemn the cowardly attacks on our people today. I call upon all Sri Lankans during this tragic time to remain united and strong," he said in a Tweet. Opposition leader Rajavarothiam Sampanthan also took to Twitter, calling for unity against "extremists.""I call upon all people of this country to come together and stand in solidarity with those who have lost their loved ones in these cowardly and tragic attacks," he said. "Let us stay together and be strong so that these extremists will not be able to take this country backwards.""I urge his Excellency the president and the prime minister to take necessary steps to identify the preparators of these crimes and to bring them before the law.
"One of the explosions was at St. Anthony's Church in Kozhikode, Colombo. St. Sebastian's church posted pictures of destruction inside the church on its Facebook page, showing blood on pews and the floor, and requested help from the public. Local media News First reported that hospital facilities in Colombo were coping well under the influx of patients from the morning's attacks and that there had been no shortage of blood with many people flooding into the city's blood banks to donate.
Sri Lanka's Minister for Economic Reforms and Public Distribution with the United National Party Dr Harsha de Silva, added to the call for calm, saying on Twitter that the government and senior military personnel had met and announced that security measures have been tightened in the wake of the attacks.De Silva urged for "NO politics" and asked Sri Lankans to "act together as Sri Lankan citizens.""My condolences to all families who lost loved ones," he said. Local media reported that church services on Easter Sunday would be cancelled for security reasons. India's Prime Minister Narendra Modi posted his thoughts and prayers for the bereaved families and those who were injured in the blasts on Twitter.