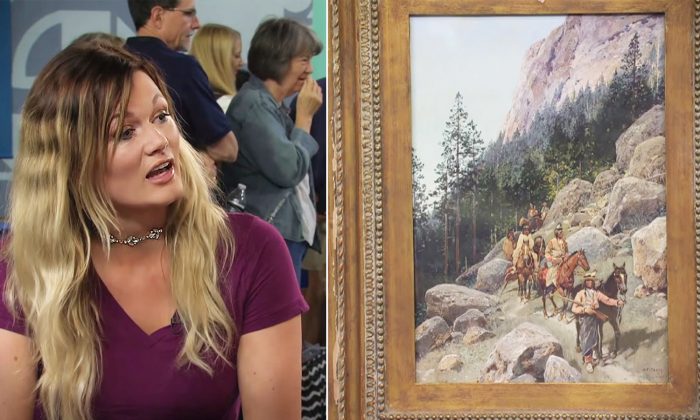 When family members pass down heirlooms, it's often difficult to discern just how valuable they are beyond their basic sentimental value. For one woman, a painting passed down from her grandmother was believed to be nothing more than that just an old but revered replica that had held special meaning to the grandmother over the course of her life.
Upon the removal of the painting's glass cover to remove a dead mosquito, though, the younger woman realized that the picture may not have been a replica after all. And after taking it to be appraised on the popular show "Antiques Roadshow," she burst into tears at what one of the show's appraisers, Meredith Hilferty, revealed to her the painting was actually worth. I took it out to the front yard and I opened it up to get the mosquito out so I could take it with me to college," the young woman explained, "and then it kind of scared me a little. I closed it back up immediately because it looked like it might be real."The painting had been given to her grandmother when the elder woman was just 19 years old, and it had become her most prized possession over the course of her life. It hung over her bed for decades, only leaving the wall when she passed away.
The young woman also mentioned: "Her dad, I'm guessing, would've given it to her after she spent the summer at a dude ranch when she was 19, in, like, the '40s."It was a surprisingly peaceful depiction of the Sioux Native American tribe heading down the Rocky Mountain trail, believed to be a replica of a piece by French-born American artist Henry Francois Farny. Farny had become a highly sought-after painter in later generations although he passed away in 1916. His works were unique for their time, focusing on the positive relations he had with Native tribes in North America during a time when many still held large levels of contempt and suspicion for the indigenous populations of the country.
The young woman now in possession of her grandmother's artwork knew that the piece had been appraised twice before in general home appraisals, and both times had been appraised as prints at $200 and $250 respectively. After opening up the glass to remove the mosquito, though, she felt that the painting may have been really so she hoped that Hilferty could give her a more definitive answer. Hilferty explained that the artist, Farny, had done some of his most prolific work right around the time that the painting in question was dated, in 1892. Sure enough, this piece was an original from that era and given how highly sought after his work was now, the piece was worth closer to between $200,000 and $300,000 as opposed to a mere $250.