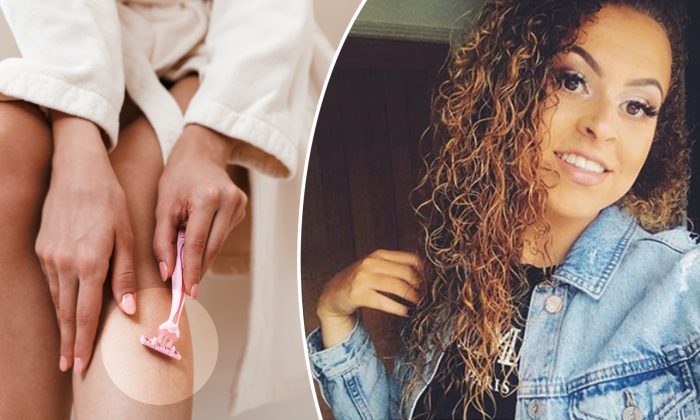 When Rhiannon Douglas first noticed the bumpy, red rashes on her legs, she thought it was her shaving that had caused it.
It turned out to be a warning sign of something far more insidious yet better than no warning at all. It was January 2017 when the 21-year-old from Cannock, Staffordshire, England, recalled shaving her legs a few days prior to her cousin's wedding. When the red rashes spread all over her body, Rhiannon panicked, thinking it was meningitis. It wasn't until these symptoms were accompanied by joint and back pain that she was eventually rushed to the emergency room. There was clearly something else going on with her health. After tests, doctors discovered an 8.5-centimetre mass inside her chest was an extremely rare form of Hodgkin's lymphoma."I couldn't believe that the rash on my legs was a rare sign of cancer, I had never heard or seen of this before so I was completely shocked when I found out," Rhiannon said, via The Independent. "At first I just thought the rash was caused by shaving, it made sense as it was my cousin's wedding a few days before and because I was wearing a dress I had shaved my legs.
"But when it started to spread I panicked and thought it was meningitis and went straight to the doctor. My legs were constantly burning, I could only wear loose-fitting clothes and I couldn't wear shoes, I had to live in flip flops."Doctors stated that had the rash not appeared, they might not have known about cancer until it was too late. Now, Rhiannon wishes to spread more awareness about the potential warning symptom. In her case, it was Henoch-Schonlein purpura, a rare skin condition caused by inflammation of blood vessels."I would urge anyone to get themselves checked out if they are unsure of anything, as you just never know what it might be," she said, as per Little Things."When I was told that I had cancer I felt numb and never thought I would hear those words at just 20 years old," she said. "But I was determined to fight it and there and then I decided to change my lifestyle around, I wanted to do everything I could to get better."She has since announced that the tumour has shrunk. Yet, she never underwent treatment. She attributes the good news to natural remedies and her vegan diet.
Cancer Sometimes Hides Behind Other Symptoms i
t is becoming more recognized that cancer may hide behind a myriad of symptoms not traditionally associated with the disease. Yet, it is often the body's inability to recover (the symptom drags on for a long time) that may potentially characterize cancerous growth, as the symptom is not the root cause. In the case of prolonged back pain, there are also other symptoms such as unexplained weight loss, prolonged coughing, or swelling be sure to consult your doctor.